It's Time Out for Theta Mom Thursday! For those of you visiting for the first time, the goal is to grab one hour of time within one week to do whatever you want…without the kids. It's such an amazing proposition, I know! On Thursdays, post how you spent your "time out" (add my button from the right side bar or link to me) and be sure to stop here to link up and meet other Theta Moms to see how they spent their time out!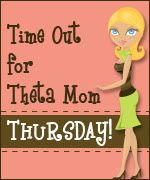 I am so excited to say that I actually had 3 hours of time out this week! That is a total record for me Theta Moms! Especially since it's been hard for me lately to squeeze in that one hour, I guess I was able to make up for some lost time.
Although I don't post a whole lot of pictures of myself, I can tell you that my hair is quite blonde and every time the cooler weather hits, I always go through this cycle of "I need a change." I sound like such a girl here, but it's true. I always want to be the slammin blonde bombshell in the summer with crazy light locks, but as soon as autumn arrives I want to take it down a few notches. I find myself doing this every year. Every single year. Seriously.
I spent my time out in the salon this week getting my normal highlights, but I also had my stylist add in some lowlights to my hair. It is just enough of a darker color to offset the crazy blondeness. After sitting with the foils, my stylist also toned my down my entire hair color slightly so it looks more natural. She used this awesome glaze stuff that also gave my hair a sleek shine! I am still a blonde of course, just not so blondie I guess.
I absolutely always look forward to taking a trip to the hair salon. There is something so relaxing about having your hair done, isn't it? It's a total non-mommy-all-girl-time for me and I love every second of it! I enjoy reading magazines while sipping a hot cup of coffee, relaxing under those lights as my full head of foil does its thing. It's fun to socialize with the other women and chat with my stylist. And I always manage pick up a new trend when I'm there, including a couple of products. Going to the salon gives me that beauty boost that I need and it's a time out that is always well worth it!
How did you spend your one hour? If you are participating in Theta Mom Thursday, link up and share your time out with other Theta Moms!
And get those last entries in for the big $150 Gift Card to Campus Quilt Company giveaway which ends tonight! Enter HERE