When your children meet other children, soon they begin to talk more and more about these "new" friends.
You begin to hear their names all over the house…
Slowly, you begin to meet the moms of these children and the more you chat with these moms, you find yourself liking them as much as your child likes their new friends.
So what happens when your kids finally get together for a play-date?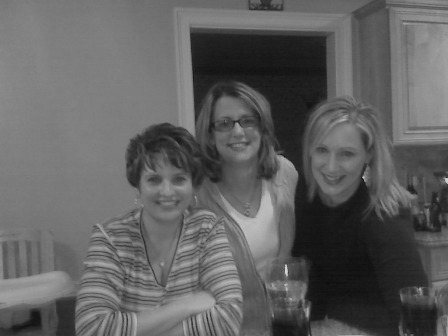 Theta Moms talk endlessly and of course, drink some wine!
I wanted to post this because these two fabulous ladies to my left are the first real moms that I have met and had over to my home, thanks to my son.
I never knew meeting people through my own child would be this successful!
So here's to my kid for finding me some totally awesome mommy dates and in the process, giving me a well deserved Theta Mom Time Out!
I won't be holding Time Out for Theta Mom Thursday again until the New Year. Although I plan on taking an hour for myself, it will be quite hectic as the holiday approaches. So once again, I'll remind you in January to join us and look forward to a New Year of Time Out for Theta Mom Thursdays!
Also, the Handbag Heaven giveaway ends tonight so get your last entries in here.
And if I haven't been to your blog recently, it's because I just joined Facebook and all of you FB freaks know how time consuming it can be, especially when you first join. So I plan to get around to your blogs shortly, I miss you guys! So (shameless plug) if you want to become a fan of Theta Mom on FB, I would love that! You can do so here. 
Hopefully this whole FB thing won't become like a Twitter addiction…although I'm beginning to wonder what I got myself into…