When routine gets you down or that mundane feeling of the mom gig is stressing you out, I have a quick and easy fix for you ladies. When I'm in the car with my kids, sometimes I am sick of listening to The Biebster or Big Time Rush, or better yet, One Direction. Sometimes, a girl just needs a little Nirvana or Pearl Jam in her life – you know what I mean?
If you need a quick pick me up, listen to some Alanis Morissette or Dave Matthews Band – or whatever music you love. This morning was absolutely freezing in New Jersey, so I wanted to feel like I was at the beach. So I turned off the music the kids typically listen to and I blasted some Bob Marley – now THAT'S what I'm talking about!!
Sometimes, it just takes one song to bring you back to a fun time in your life to give you some momentary uninterrupted bliss – so I challenge you ladies to rock out to a favorite song today and blast it. Even if it's only for five minutes, you'll feel better, I promise.
Since I'm in the mood to change things up a bit, I thought I would share my all-time favorite "cut and dump" recipe that I blogged about three years ago…
For those of you who know me, you know I loathe cooking. I consider myself a pro in the kitchen at cutting and dumping: I just cut open the package and dump it in.
Well, Halloween is nearly here and my son (with his nut allergy) is so limited to the kinds of candy he can eat, so I always make the most unbelievable cut and dump that he enjoys. Even my picky-eater-allergy-suffering-I-only-eat-mac-and-cheese son LOVES it! It takes me approximately 1 minute and 30 seconds to pull this beauty together.
Ready?
1. Cut and Dump Spice Cake Mix: Do NOT follow the directions on the box, just cut and dump!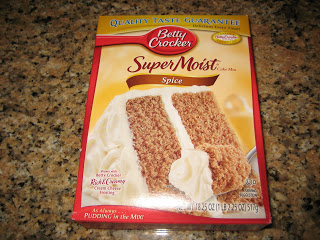 2. Cut and Dump Pure Pumpkin from the can: Use half of the big can (15 oz) I always make two cakes at a time so I buy the big one.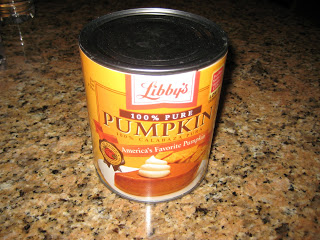 3. Dump ¼ cup of water & stir it all up in one big bowl:  Actually, you should probably use a mixer, but I think a few turns with a spoon does the job…you decide.
4. Dump this into your favorite baking dish (sprayed of course) and bake for 30 minutes at 350. When serving, I usually spice it up by dumping some powdered sugar on top after it cools.
You. Are. Done.
Honestly, this will make your family think you slaved in the kitchen for hours and prep time is less than three minutes. However, I can't take the credit for this fabulous cut and dump because this is actually a Weight Watchers recipe and only 1 point per serving!
Now ladies, a good cut and dump doesn't get much better than that, so put on some Pearl Jam, go spice it up in the kitchen and let me know how it goes!!