***This contest is now closed. Congratulations Chelle! An email has been sent.***
Handbag Heaven is a leader in handbags online. They offer adorable handbags at prices staring at $15 and every bag on their website is priced below $75. Handbag Heaven stands behind every product, offering customers a 100% satisfaction guarantee as well as hassle-free returns. If you spend over $50, you also receive free shipping and you can shop with confidence on their secure shopping system.
I am a busy Theta Mom of two young children. With a 4 year-old son and a 1 year-old daughter, I need room in a handbag. I am still in that stage where I need to fit wipes, some diapers, a sippy cup, a snack or two, as well as my wallet and some other personal items. I need a bag that is trendy and stylish, yet completely functional. I need it to be roomy enough to fit all of my garb, but not look bulky and frumpy.
So check out this hot Theta Mom bag from Handbag Heaven!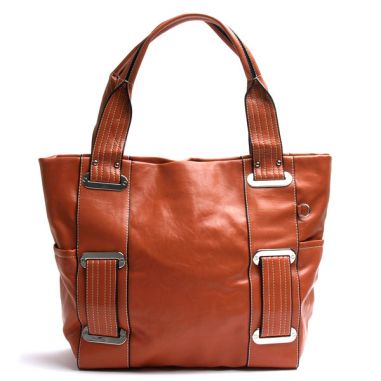 This is called the Trudi Timeless Tote and it retails for over $62.00. It has a pocket on each side where I can slip my keys and cell phone for easy access and the tote fits everything I need perfectly. It has a zipper pouch in the back of the bag as well as a deep base. I love the color and couldn't be more pleased with the look and feel of this bag! It looks so fashionable and you would never know it's filled with half of my kids stuff! For full details and more pictures of my Trudi Timeless Tote, go here.
But here's the best part ladies: Handbag Heaven is giving one lucky Theta Mom reader the chance to win her very own Handbag Heaven bag! Shopping for a bag has never been this much fun!
How to Enter the Handbag Heaven Giveaway:
Required Entry: Go to Handbag Heaven and check out their website. Choose a bag you totally adore and come back here and tell me your bag of choice.
Extra Entries: (You must leave a separate entry for each extra entry to count and extra entries won't count unless the required entry is done)
1. Follow my blog publicly and tell me you do. (1 entry)
2. Follow me on Twitter and leave me your twitter name. (1 entry)
3. Grab one of my cute buttons and add it to your website. (2 entries per button)
4. Subscribe to my Blog. You must activate the subscription for this entry to count. (1 entry)
5. Click to vote for me at Top Mommy Blogs. Just click the banner on the right side bar and tell me you clicked. (1 entry)
6. Tweet this giveaway! Just copy/paste the following: Enter to win your choice of any Handbag Heaven #giveaway Bag @ThetaMom  http://tinyurl.com/yekhgss Please RT (1 entry per daily tweet)
7. Post about this giveaway on your blog and link back to me. Leave me your link to show the post. (2 entries)
8. Add Theta Mom to your blogroll (2 entries)
Giveaway Rules:
This giveaway is open to US residents only. It begins on November 27, 2009 and will end on December 10, 2009 at 10 pm. One winner with a valid entry will be selected at random using random.org. The winner will be announced and must respond with a current email address within 48 hours to claim. Otherwise, another eligible entry will be chosen. Enter as many extra entries as you would like Theta Moms and good luck!
I received the Trudi Timeless Tote from Handbag Heaven for this review. I was not compensated for this review. These are my own honest opinions about the product.