***This contest is now closed. Congratulations to Stefany. An email has been sent!***
LeapFrog  is a company that is leading and designing innovative and educational products that are technology-based, making learning fun for children of all ages. They offer quality educational products at an affordable price point, making any purchase a great investment. The LeapFrog philosophy is that they "put learning first." This company believes it is this philosophy that sets them apart from other competitors.
I have been impressed with this company and their line of educational, technology-based products for quite some time now, so you can imagine my excitement when I received the email that LeapFrog wanted Theta Mom to perform a review/giveaway! I reviewed the Leapster2 along with two games: The Princess and the Frog (4-7 years) and Star Wars (5-8 years).
The Leapster2 is the #1 best selling educational handheld gaming system. Honestly, it's the first product that has truly held the interest of my 4 year-old son. I can't tell you how many times he has received gifts from a birthday party or Christmas and after five days, the excitement wore off and he moved on to the something else. I have a basement full of toys that he hardly ever uses anymore. And then, we met the Leapster2.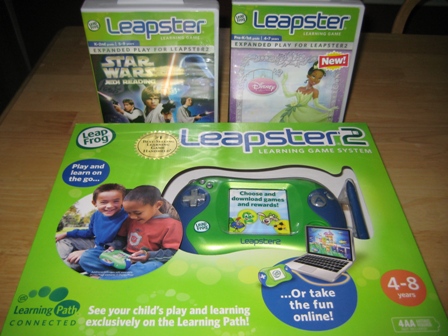 You know I only endorse products/companies that I fully believe in and support. I can't tell you enough how the Leapster2, in some ways, changed my life. Seriously. My son will actually play on his Leapster2 for an hour at a time. He looks forward to playing each time and we even downloaded an extra game from our computer at no extra cost! The gaming and learning possibilities with this Leapster2 are endless!
The touch screen is easy to work with and the buttons are easy for my son's little fingers to navigate. But, what I love most about this product is that there is real learning going on and my son doesn't even realize it because he's having so much fun! He's counting, recognizing letters, shapes, beginning to put sounds together and form words, all at the press of a button.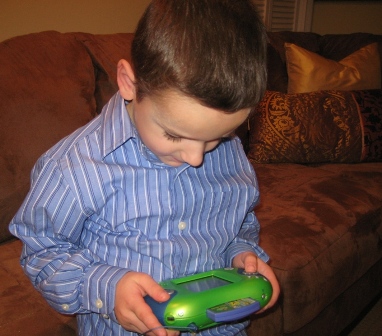 The other reason I absolutely love this product is that it transports very easily. We even take it in the car since it runs on batteries, no need to plug in. We invested in a battery charger and rechargeable batteries, so when he wants to continue playing, it's so easy!
Moreover, along with the Leapster2, there is a CD-ROM called LeapFrog Connect included in the package that actually tracks your child's learning progress! You can set up an individual account (which we did) to monitor and track your child's overall performance. This is called The Learning Path and it demonstrates your child's skill level in Listening and Speaking Skills, Phonics Skills as well as Memory Skills. How awesome is that?
The Princess and the Frog (4-7 years) game: My son loved Cooking with Tiana. He gets the chance to be a real chef, cutting the food and stirring the pot. (Yes, he loves to stir the pot)! He also likes to choose the "right letter" to get to Mama Odies's House. He tells me with excitement when he gets it right!
Star Wars (5-8 years): My son also enjoys identifying upper and lowercase letters while battling the Storm troopers. He also gets to blast the letters to get more power. What boy wouldn't want to blast those letters in space? Spelling and letter recognition has never been this much fun!
I cannot tell you enough how much we love the Leapster2 and the learning experience it provides my son. As a Theta Mom, this product is my sanity, because my son's attention is on something else other than me for once!
The Leapster2 retails for $69.99. You can purchase one yourself, by locating a store here or you can enter this giveaway because LeapFrog is giving one lucky Theta Mom reader the chance to WIN YOUR VERY OWN LEAPSTER2!!! Perfect timing for the holidays Theta Moms! Trust me when I tell you, your child will be ecstatic over the Leapster2!
How to Enter the LeapFrog Leapster2 Giveaway:
Required Entry: I made this SUPER easy: Just follow my blog publicly and tell me you are.
Extra Entries: (You must leave a separate entry for each extra entry to count and extra entries won't count unless the required entry is done)
1. Follow me on Twitter and leave me your twitter name. (1 entry)
2. Grab one of my cute buttons and add it to your website. (2 entries per button)
3. Subscribe to my Blog. (1 entry)

4. Click to vote for me at Top Mommy Blogs. Just click the banner on the side bar and tell me you clicked. (1 entry)
5. Tweet this giveaway! Just copy/paste the following: Enter to win a LeapFrog #giveaway for a Leapster2 @ThetaMom http://tinyurl.com/ygq7w3n Please RT (1 entry per daily tweet)
6. Stumble this giveaway and tell me you stumbled. (1 entry)
7. Fave my blog to Technorati and use icon in the Connect With Theta Mom green box. (1 entry)
8. Post about this giveaway on your blog and link back to me. Leave me your link to show the post. (2 entries)
9. Add Theta Mom to your blogroll (2 entries)
Giveaway Rules:
This giveaway is open to US residents only. It begins on November 19, 2009  and will end on December 3, 2009 at 10 PM. One winner with a valid entry will be selected at random using random.org. The winner will be announced and must respond with a current email address within 48 hours to claim. Otherwise, another eligible entry will be chosen. Enter as many extra entries as you would like Theta Moms and good luck!
I received the Leapster2 and the two games shown in this post for review. I was not compensated for this review. These are my own opinions about the products, including my son's experience.