***This contest is now closed. Congratulations to Katrina! An email has been sent!***
Paperspring was launched in 2008 by Charlie Chan Printing, a commercial printing company based in Los Angeles. Paperspring's project managers and designers aim to please every customer with their remarkable standard of high quality and service. Paperpring does all of their printing in-house which means fast, unparalleled service for the customer. Satisfaction is 100% guaranteed and Paperspring has been officially certified by the Forest Stewardship Council as "a chain-of-custody provider of recycled paper made from environmentally sustainable forests." Aside from being an eco-friendly company, they also pride themselves on exquisite designs that are exclusive only to Paperspring.
I was given $60 to spend at Paperspring to try out their products and see if it matched what they have committed to on their website. I was very impressed from the moment I browsed their website. Their designs are truly beautiful and the service was super fast and easy. Furthermore, the cards are of very high quality, something I can't wait to share with friends and family this holiday season!
I chose the Pure Joy: Red Holiday Photo Card as my Christmas card for this year. You can get a good look at this card here. It's made of 100% recycled cardstock and is FSC-certified. I easily uploaded a picture of my kids and the quality of this photo on the card was excellent. I didn't share the personalization underneath the card in this post, but you can personalize this card any way you wish!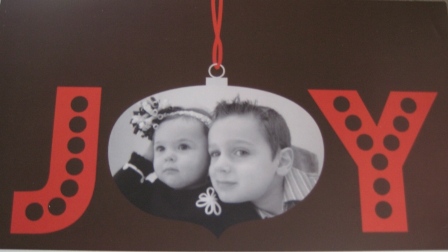 I was also impressed with not only how quickly I received my cards, but the way they were packaged. You can shop now, especially since Paperspring is offering a 20% discount on all holiday card orders placed now through December 6th.
Or, enter to win here because Paperspring is giving one lucky Theta Mom reader a $60 coupon code to use at Paperspring! Need holiday cards? Invitations? Thank You Cards? Paperspring has an amazing collection of different designs for any need, just in time for the holidays!
How to Enter the Paperspring Giveaway:
Required Entry: Go to Paperspring and check out their website. Come back here and tell me how you would spend the $60.
Extra Entries: (You must leave a separate entry for each extra entry to count and extra entries won't count unless the required entry is done)
1. Follow my blog publicly and tell me you do. (1 entry)
2. Follow me on Twitter and leave me your twitter name. (1 entry)
3. Grab one of my cute buttons and add it to your website. (2 entries per button)
4. Subscribe to my Blog. In order for this entry to count, you must activate your subscription. (1 entry)

5. Click to vote for me at Top Mommy Blogs. Just click the banner on the right side bar and tell me you clicked. (1 entry)
6. Tweet this giveaway! Just copy/paste the following:
Enter to win a $60 coupon code #giveaway to Paperspring @ThetaMom http://tinyurl.com/yerxd3z
Please RT (1 entry per daily tweet)
7. Post about this giveaway on your blog and link back to me. Leave me your link to show the post. (2 entries)
8. Add Theta Mom to your blogroll (2 entries)
Giveaway Rules:
This giveaway is open to US residents only. It begins on November 22, 2009 and will end at 10 PM on December 3, 2009. One winner with a valid entry will be selected at random using random.org. The winner will be announced and must respond with a current email address within 48 hours to claim. Otherwise, another eligible entry will be chosen. Enter as many extra entries as you would like Theta Moms and good luck!
I received a $60 e-gift certificate to use at Paperspring. I was not compensated for this review. These are my own honest opinions about the product, including my experience.