***This contest is now closed. Congratulations Jean Myles. An email has been sent.***
Demi Bella was founded by Marlo, a graphic designer and busy mother of 3. She decided to create this company when she heard mothers asking each other the same questions at her daughter's first cheerleading practice. "Is this your only child? How many kids do you have?" Those questions sparked an interest to introduce a product that would tell a mother's story. Marlo immediately took her graphic design talent to design her own line of t-shirts that not only told the story of how many children a mother has, but found a way to make moms look fashionable in the process!
Since I am a Theta Mom of two, I reviewed the Black Long Sleeve V-Neck Mommy of 2 Tee which retails for $48.00.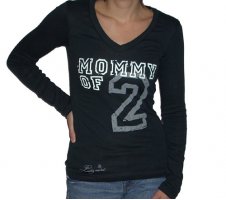 If you are anything like me then you would agree that a woman can never have enough black tees in her closet. However, this one is special because it's a Demi Bella! It's very comfortable made of 98% cotton and 2% spandex which hug and drape around the body perfectly. This isn't your average t-shirt that you would wear to the gym. It's the kind of shirt you would wear with a pair of jeans, some boots and jewelry…and look totally fabulous! You will instantly add this tee to your wardrobe and find yourself wearing it often because it's so comfortable and easy to wear. You can pull a trendy look together in minutes.
Demi Bella is certainly no stranger to celebrities, either! Just ask Lynn, a Mom and Real Housewife of Orange County: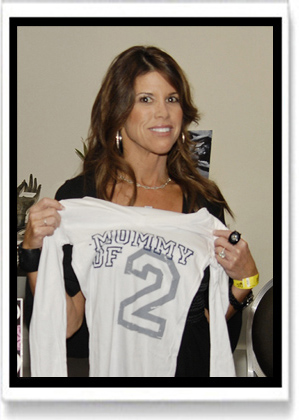 And of course Theta Moms! Demi Bella offers sizes S-XL and there are a variety of products to choose from. The company offers different tees, tank tops, baby tees, tote bags and sweatshirts. Click to shop the entire Demi Bella line here.
You can purchase this Black Long Sleeve V-Neck Tee for $48.00 here OR you can enter to win one! Demi Bella is giving one lucky Theta Mom reader the chance to win her very own Demi Bella tee!
How to Enter the Demi Bella Giveaway:
Required Entry: Follow my blog publicly. Easy peasy!
Extra Entries: (You must leave a separate entry for each extra entry to count and extra entries won't count unless the required entry is done)
1. Follow Theta Mom on Twitter and leave me your twitter name. (1 entry)
2. Become a fan of Theta Mom on Facebook here and leave me your FB name. (1 entry)
3. Subscribe to Theta Mom via email. You must activate the subscription for this entry to count. (2 entry)
4. Subscribe to Theta Mom any other way. (1 entry)
5. Grab one of my cute buttons and add it to your website. (2 entries per button)
6. Click to vote for me at Top Mommy Blogs. Just click the banner on the right side bar and tell me you clicked. (1 entry)
7. Tweet this giveaway! Just copy/paste the following:
Enter to win a $48 Mommy Tee #giveaway from Demi Bella @ThetaMom  http://tinyurl.com/ybagwyb Please RT (1 entry per daily tweet)
8. Post about this giveaway on your blog and link back to me. Leave me your link to show the post. (2 entries)
9. Add Theta Mom to your blogroll. (2 entries)
Giveaway Rules:
This giveaway is open to US residents only. It begins on December 13, 2009 and will end on December 23, 2009 at 10 pm. One winner with a valid entry will be selected at random using random.org. The winner will be announced and must respond with a current email address within 48 hours to claim. Otherwise, another eligible entry will be chosen. Enter as many extra entries as you would like Theta Moms and good luck!
I was provided one Tee from Demi Bella to review. I was not compensated for this review. These are my own honest opinions about the product.