***This contest is now closed. Congratulations #22 Amy. An email has been sent.***
The Joey Boey Town Play Mat provides the opportunity for children to have a space for full imaginative play. The possibilities are endless as they create their own community using people, cars, boats, and planes. With The Joey Boey Town Play Mat, traveling and role-playing is so much fun! The mat itself is 4ft x 6 ft which is big enough for many children to play at the same time. It's made with a layered vinyl and scaled for all popular die cast cars. It is completely spill-proof protected, making spills and messes an easy clean-up. Also, the mat rolls up for easy storage and what Theta Mom doesn't love that?
I was given The Joey Boey Play Mat to review. My son was immediately drawn to all of the artistic detail on the mat. When I first placed the mat down, he wanted to go through the entire town and "read" the different parts with me. The mat contains an airport, a city park, a church, homes, corner stores, museum, a gas station, etc. Everything a child would want and need in a town is located on this mat. My son enjoys moving his cars and trucks along the streets. He also likes to pretend he is going on an adventure, stopping for gas, buying something at the store and then taking a flight at the airport.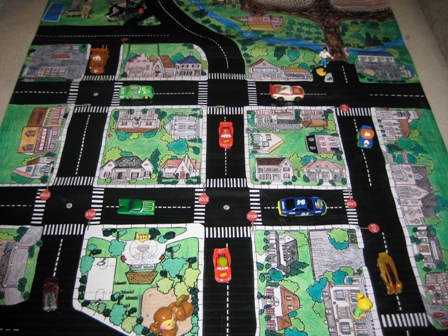 I even placed my 1 year-old daughter on the mat with my son and they played together. Although she does not play the same way he does with this mat because of her age, she does like touching it and looking at all of the different buildings. So, I sit her on this mat with some of her toys and she is occupied as well! The mat is very durable, too. My daughter was curling the ends up while trying to rip it (such a fun age) but the mat did not budge! It returned to its flat and solid state. I think my 1 year-old is an excellent test of a product's durability. If it can withstand her, it is durable! The mat is also big enough to comfortably fit both of my children at the same time and many toys on it as well. From a Theta Mom's perspective, my favorite part about this product that separates itself from other mats on the market is that The Joey Boey Town Play Mat rolls up for easy storage. Since it is made of layered vinyl, clean up and storage has never been easier!
You can purchase The Joey Boey Town Play Mat for $19.95 here OR you can enter to win because Joey Town is giving one lucky Theta Mom reader a Joey Boey Town Play Mat!
 How to Enter The Joey Boey Town Play Mat Giveaway:
Required Entry: Follow my blog publicly and tell me you are. Easy peasy!
Extra Entries: (You must leave a separate entry for each extra entry to count and extra entries won't count unless the required entry is done)

1. Follow Theta Mom on Twitter and leave me your twitter name. (1 entry)
2. Become a fan of Theta Mom on Facebook and leave me your FB name. (1 entry)
3. Subscribe to Theta Mom via email. You must activate the subscription for this entry to count. (2 entries)
4. Subscribe to Theta Mom any other way. (1 entry)
5. Grab one of my cute buttons and add it to your website. (2 entries per button)
6. Click to vote for me at Top Mommy Blogs. Just click the banner on the right side bar and tell me you clicked. (1 entry)
7. Tweet this giveaway! Just copy/paste the following: Enter to win a Joey Boey Town Play Mat #giveaway @ThetaMom  http://tinyurl.com/ydbhjve Please RT (1 entry per daily tweet)
8. Post about this giveaway on your blog and link back to me. Leave me your link to show the post. (2 entries)
9. Add Theta Mom to your blogroll. (2 entries)
Giveaway Rules:
This giveaway is open to US residents only. It begins on December 26, 2009 and will end on January 7, 2010 at 9 pm. One winner with a valid entry will be selected at random using random.org. The winner will be announced and must respond with a current email address within 48 hours to claim. Otherwise, another eligible entry will be chosen. Enter as many extra entries as you would like Theta Moms and good luck!
I was provided one Joey Boey Town Play Mat to review. I was not compensated for this review. These are my own honest opinions and experience with the product.