***This contest is now closed. Congratulations Natasha! An email has been sent.***
Waterpik is a company that has been a leader in creating and manufacturing innovative personal and oral health care products that enhance health and wellness since 1962. Waterpik has maintained a commitment to developing products that enable consumers to take better care of their personal and oral health. Over the years, these products have been recognized for their incredible technology and award winning designs. Waterpik is one of the most trusted oral health brands of dental professionals throughout the world.
I tested one of Waterpik's most popular products The Ultra Dental Water Jet which is clinically proven to be significantly more effective than flossing alone. It helps to reduce gingivitis and removes bacteria deep between teeth and below the gumline. It cleans three times deeper than brushing alone. With its state-of-the-art dental water jet technology, this product features 10 pressure settings and 6 tips which guarantee healthier gums in just 14 days. You can view all the specific details for the Ultra Dental Water Jet here.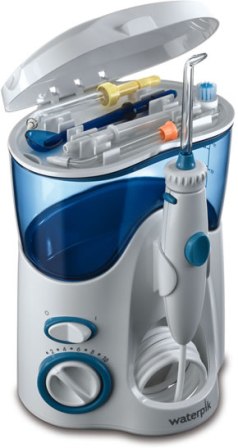 I am religious about dental hygiene. So if there is something I can do to keep my teeth and gums healthy (aside from brushing and flossing alone) then I want to incorporate it into my daily routine. When I received the Ultra Dental Water Jet, the directions on how to use this unit were clearly explained. A small card was inserted in the box (along with a detailed information packet) with 6 easy steps.
Basically, you fill the reservoir with water and lock it onto the base, select and insert a tip to use, adjust the pressure on the unit itself, and begin to use the selected tip on your teeth and gums. So easy! When you use the Ultra Dental Water Jet for the first time, you need to "prime" the unit (step #3) making sure the pressure tip is pointed down toward the sink. This not only allows the pressure and the water to work through the unit correctly, but having the tip pointed down toward the sink will keep the water from spraying elsewhere. Once I inserted the tip and adjusted the pressure (as well as the pause control), I quickly began to get the hang of it. At first, some of the water was spraying too fast, but the dial on the unit to reduce the pressure is there so that you are able to control how hard the water comes out at any time. When I found the right setting that was comfortable for me, I began to use this unit effectively. The Ultra Dental Water Jet was really getting right at the gumline and between all of my teeth beautifully. Especially for far to reach places, this unit ensured an excellent cleaning every single time. My dentist would be so proud of me!
I've used this product for a week now in conjunction with regular brushing and flossing. However, if you don't enjoy flossing so much, this product can actually replace flossing. My teeth and gums certainly feel cleaner and fresher since testing the unit! Using the Ultra Dental Water Jet has been the third acquired step in my daily routine. It's a product that has definitely lived up to its promise and even has clinical studies to support it. I strongly encourage you to catch a great video on the Waterpik website demonstrating exactly how the Ultra Dental Water Jet works. You can watch that video here.
You can also purchase The Ultra Dental Water Jet for $59.99 here OR you can enter to win because Waterpik, Inc. is giving one lucky Theta Mom reader an Ultra Dental Water Jet! Amazing!!!
 How to Enter the Waterpik Giveaway:
Required Entry: I made this super easy. Follow my blog publicly and tell me you are.
Extra Entries: (You must leave a separate entry for each extra entry to count and extra entries won't count unless the required entry is done)
1. Follow Theta Mom on Twitter here and leave me your twitter name. (1 entry)
2. Become a fan of Theta Mom on Facebook here and leave me your FB name. (1 entry)
3. Subscribe to Theta Mom via email. You must activate the subscription for this entry to count. (2 entries)
4. Subscribe to Theta Mom any other way. (1 entry)
5. Grab one of my cute buttons and add it to your website. (2 entries per button)
6. Click to vote for me at Top Mommy Blogs. Just click the banner on the right side bar and tell me you clicked. (1 entry)
7. Tweet this giveaway! Just copy/paste the following: Enter to win an Ultra Dental Water Jet (retail $59.99) #giveaway from Waterpik @ThetaMom http://tinyurl.com/ydy4qw5 Please RT (1 entry per daily tweet)
8. Post about this giveaway on your blog and link back to me. Leave me your link to show the post. (2 entries)
9. Add Theta Mom to your blogroll. (2 entries)
 Giveaway Rules:
This giveaway is open to US residents only. It begins on December 18, 2009 and will end on December 30, 2009 at 10 pm. One winner with a valid entry will be selected at random using random.org. The winner will be announced and must respond with a current email address within 48 hours to claim. Otherwise, another eligible entry will be chosen. Enter as many extra entries as you would like Theta Moms and good luck!
I was provided an Ultra Dental Water Jet from Waterpik, Inc. to review. I was not compensated for this review. These are my own honest opinions and experience with the product. However, individual results may vary.