***This contest is now closed. Congratulations Dana! An email has been sent.***
Little Billies is a company created by mother of 2, Sarah Dawson. When Sarah gave birth to her first child, she was an avid reader of many different positive parenting books. However, she thought these books lacked the real tools needed for a parent to implement some of the suggested strategies, which caused her to think about how she could create a product that would fill this void. In 2006 when her son was only 18 months old, Little Billies was born. When Sarah contacted me about reviewing a Little Billies Rewards Chart, I can't tell how perfect the timing was…
My husband and I had agreed that the "big" Christmas gift for our 4 year-old son was going to be the Wii. We also knew there would have to be some limits set in order to play. Otherwise, it would be an everyday Wii marathon. So playing the Wii had to be earned, so my husband and I needed a way to document his progress and success. This is when I knew a Little Billies Reward Chart was the perfect answer!
Although you may find variations of reward charts on the market, the Little Billies chart is different because it is magnetic. As a former elementary school teacher, I am a huge fan of the reward chart but was always stuck using sticker related charts. The problem though, was that the stickers were hard to peel if they needed to be removed and it was inconvenient to find a place to hang this type of chart in my home. The beauty about the Little Billies Reward Chart is that it can be placed with ease on any magnetic surface. We found the refrigerator to be the best spot to keep the chart because it's a daily reminder of the behavior our son has to display in order to play the Wii. Then once he reaches his goal, we remove all the magnets and we start the process again. So easy!
The Reward Chart that I reviewed is Stage 2 for children 4+ years. You can find all the details for this chart here. However, be sure to check out the entire website here for all age appropriate products that would best fit the needs of your child. I chose the soccer theme personalized with my son's name. However, there are many other adorable themes to choose from. The chart also comes with 48 magnets and many of the behaviors are found more than once. This is great especially if you are trying to focus on one behavior. For example, there is a "good toilet" magnet, so if you are in the midst of potty training your little one this would be excellent motivation! Using the magnets, there are multiple ways to use the chart effectively.
Here is a picture of my son's Little Billies Chart hung on the side of our refrigerator. I cropped it so his name was not shown, so it looks a bit awkward but I wanted you to see some of the magnets on the chart.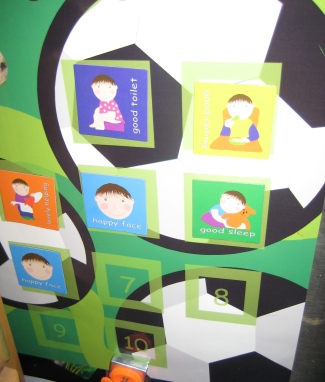 I also liked the fact that my son was excited about this chart. The magnets fit perfectly in his little hands and he loves to place them on the chart himself. He then counts how many boxes are left before he can play the Wii! I would recommend this chart to any parent who would like to implement positive reinforcement.
You can purchase this personalized magnetic reward chart  for $24.95  here OR you can enter to win because Little Billies is giving one lucky Theta Mom reader a $25 e-voucher to use for any Little Billies product!
How to Enter The Little Billies Giveaway:
Required Entry: Follow my blog publicly and tell me you are.
Extra Entries: (You must leave a separate entry for each extra entry to count and extra entries won't count unless the required entry is done)

1. Follow Theta Mom on Twitter here and leave me your twitter name. (1 entry)
2. Become a fan of Theta Mom on Facebook here and leave me your FB name. (1 entry)
3. Subscribe to Theta Mom via email. You must activate the subscription for this entry to count. (2 entries)
4. Subscribe to Theta Mom any other way. (1 entry)
5. Grab one of my cute buttons and add it to your website. (2 entries per button)
6. Click to vote for me at Top Mommy Blogs. Just click the banner on the right side bar and tell me you clicked. (1 entry)
7. Tweet this giveaway! Just copy/paste the following: Enter to win a $25 e-voucher from Little Billies #giveaway @ThetaMom  http://tinyurl.com/ykgcpsw Please RT (1 entry per daily tweet)
8. Post about this giveaway on your blog and link back to me. Leave me your link to show the post. (2 entries)
9. Add Theta Mom to your blogroll. (2 entries)
Giveaway Rules:
 This giveaway is open to US and Australian residents. It begins on January 8, 2010 and will end on January 21, 2010 at 9 pm. One winner with a valid entry will be selected at random using random.org. The winner will be announced and must respond with a current email address within 48 hours to claim. Otherwise, another eligible entry will be chosen. Enter as many extra entries as you would like Theta Moms and good luck!
I was provided a Little Billies "My Rewards Chart" in the soccer theme  to review. I was not compensated for this review. These are my own honest opinions and experience with the product.