***This contest is now closed. Thank you for all who entered, making this the biggest response to a giveaway @Theta Mom! And congratulations to GeorgiaMist! An email has been sent.***
Parazul is a company that was developed and inspired by beautiful vacation destinations. Parazul carries a full line of handbags and accessories that immediately has women asking the question, "What's your Parazul personality?"
You will find The Alaskan Collection and The Caribbean Collection on their full website, each containing gorgeous designs. Whether it's sporty chic, a night out on the town, flirty and fun, or even a high-tech style you are seeking, you will find the right look you are craving at Parazul. This company has created a line of handbags that each come with a 100% silk scarf as well as the Parazul logo charm. Although they add charm and style to each bag, you can purchase the scarves and charms separately. To view their full line of scarves, click here and for the full line of charms and accessories, click here. You can even build your own bag at Parazul, choosing your own style, color, scarf and charm! So there really is a Parazul look for all personality types. You can view their full line of handbags, including both Collections here.
I reviewed The Pink Scarf Bag with Pink Logo Scarf that retails for $340.00. I was so excited when my bag arrived! I took it out of the box and it was packaged beautifully in a Parazul signature logo bag. Seriously ladies, this bag is stunning.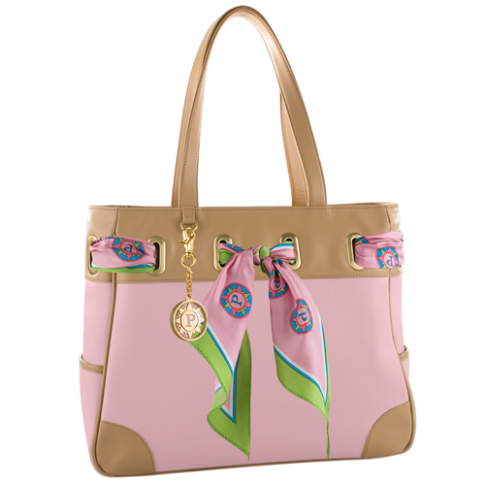 Many of you already know I am a handbag freak and I love a good bag. This Parazul design certainly does not disappoint! What I love most about this bag is the attractive 100% silk scarf and elegant Parazul charm that give it its own unique look. The scarf contains the Parazul logo and the colors are striking. This bag is also the perfect size for me. I am still in that stage where I need enough room in a bag for all of the things I cart around for my kids. So not only do I want style, I need functionality. The bag is made with a sturdy modern canvas and it's trimmed with brown leather. The inside of the bag is lined with that signature blue Parazul color and appears easy to maintain.
You can purchase The Pink Scarf Bag with Pink Logo Scarf  for $340.00 here  or The Beige Classic Bag with Beige/Black Logo Slim Scarf (pictured below) for $250.00 here OR you can enter to win because Parazul is giving one lucky Theta Mom reader this bag (pictured below) The Beige Classic Bag with Beige/Black Logo Slim Scarf, retail of $250.00!!! Is this an amazing giveaway or what?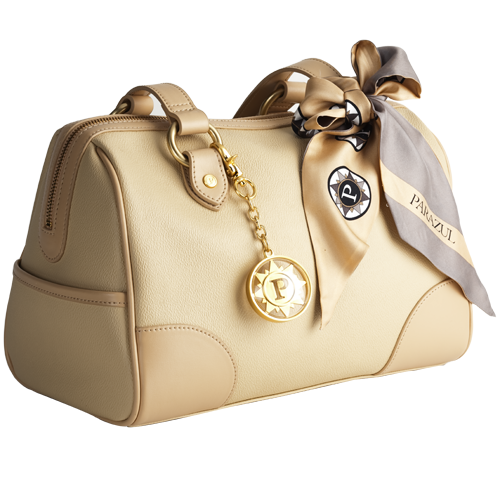 How to Enter The Parazul Giveaway:
 Required Entry: Follow my blog publicly and tell me you are.
 Extra Entries: (You must leave a separate entry for each extra entry to count and extra entries won't count unless the required entry is done)

1. Follow Theta Mom on Twitter here and leave me your twitter name. (1 entry)
2. Become a Fan of Theta Mom on Facebook here and leave me your FB name. (1 entry)
3. Subscribe to Theta Mom via email. You must activate the subscription for this entry to count. (2 entries)
4. Subscribe to Theta Mom any other way. (1 entry)
5. Grab one of my cute buttons and add it to your website. (2 entries per button)
6. Click to vote for me at Top Mommy Blogs. Just click the banner on the right side bar and tell me you clicked. (2 entries)
7. Tweet this giveaway! Just copy/paste the following: Enter to win The Parazul handbag #giveaway retail value: $250 @ThetaMom  http://tinyurl.com/y9ypsl9 PleaseRT (1 entry per daily tweet)
8. Post about this giveaway on your blog and link back to me. Leave me your link to show the post. (2 entries)
9. Add Theta Mom to your blogroll. (2 entries)
Giveaway Rules:
This giveaway is open to US residents only. It begins on January 22, 2010 and will end on February 4, 2010 at 9 pm. One winner with a valid entry will be selected at random using random.org. The winner will be announced and must respond with a current email address within 48 hours to claim. Otherwise, another eligible entry will be chosen. Enter as many extra entries as you would like Theta Moms and good luck!
I was provided The Pink Scarf Bag with Pink Logo Scarf from Parazul. I was not compensated for this review. These are my own honest opinions and experience with the product.