***This contest is now closed. Thank you all to those who entered. Congratulations to KTKatherine. An email has been sent.***
Eyes Lips Face, better known as e.l.f., was launched in 2004 by celebrity and beauty professional Scott-Vincent Borba. It's been considered a revolutionary company because it creates cosmetics that moisturize your skin, giving your complexion that natural glow without breaking the bank. I reviewed e.l.f. products before and since I am very passionate about this line of cosmetics, I was excited to work with e.l.f. again!
What continues to impress me about this company is the quality of makeup you receive at such an affordable cost. You can achieve a professional and polished look with money still in your wallet! And when I apply e.l.f. products to my skin, they don't ever feel heavy or "cakey." As I've said before, I've tried other brands in the past that made me feel as though the makeup was wearing me instead of me wearing the makeup. I also have very sensitive skin and these products do not irritate my skin in any way, which is essential to me when choosing a brand of cosmetics.
I reviewed the e.l.f. Makeup Artist Starter Kit which has once again, surpassed my expectations. If you want to check out all of the details of the kit I reviewed, click here.
 The Makeup Artist Starter Kit includes the following:
Makeup Artist Travel Belt
Travel Mirror
Mechanical Eyelash Curler
Eyeliner and Shadow Stick (black/smoke)
Eyebrow Kit
Lengthening & Volumizing Mascara (black)
Under Eye Concealer and Highlighter (glow/light)
Eye Primer & Liner Sealer (natural)
Lip Primer and Plumper (clear/natural)
Lip Definer & Shaper (nude/natural)
Translucent Modifying Powder (translucent)
Contouring Blush & Bronzing Powder (blushed/bronzed)
Concealer Pencil & Brush (light)
Makeup Case (black)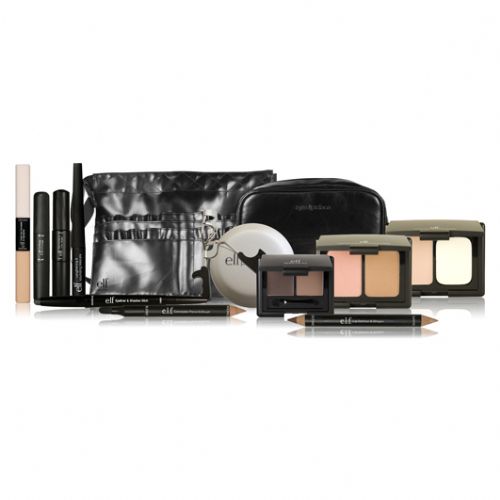 This e.l.f. starter kit has everything you need to be your own makeup artist! All of the items fit into the adorable makeup case and I feel like such a pro when I wear the makeup belt around my waist! Each product easily slips into the different compartments for easy access, so when I am getting ready (especially for a Theta Mom time out) I am looking so chic! Although I would absolutely recommend all of these products included in this kit, some of my favorites are: The Lip Primer & Plumper because it is applied like clear gloss that moisturizes my lips and makes them feel fuller; The Under Eye Concealer and Highlighter because I can't tell you how many mornings I wake-up with those "mom eyes" from being up with the kids the night before and this product quickly diminishes any dark circles or puffiness; The Lengthening & Volumizing Mascara because it actually lengthens my lashes; The Eyebrow Kit because it helps me to keep those brows in check, and The Contouring Blush & Bronzing Powder because it gives my skin that "natural" glow…You can follow e.l.f on Twitter here and on Facebook here.
And you can purchase the Makeup Artist Starter Kit for $50 here OR you can enter to win because e.l.f. is giving one lucky Theta Mom reader her very own Makeup Artist Starter Kit! What an awesome giveaway! Think Valentine's Day ladies and look fabulous!!!
How to Enter The e.l.f. Giveaway:
Required Entry: Follow my blog publicly and tell me you are.
Extra Entries: (You must leave a separate entry for each extra entry to count and extra entries won't count unless the required entry is done)

1. Follow Theta Mom on Twitter here and leave me your twitter name. (1 entry)
2. Become a Fan of Theta Mom on Facebook here and leave me your FB name. (1 entry)
3. Subscribe to Theta Mom via email. You must activate the subscription for this entry to count. (2 entries)
4. Subscribe to Theta Mom any other way. (1 entry)
5. Grab one of my cute buttons and add it to your website. (2 entries per button)
6. Click to vote for me at Top Mommy Blogs. Just click the banner on the right side bar and tell me you clicked. (1 entry per click – you can click up to 3x per IP address)
7. Tweet this giveaway! Just copy/paste the following: Enter to win The e.l.f. $50 Makeup Artist Kit #giveaway @ThetaMom  http://ow.ly/1nR1ft Please RT (1 entry per daily tweet)
8. Post about this giveaway on your blog and link back to me. Leave me your link to show the post. (2 entries)
9. Add Theta Mom to your blogroll. (2 entries)
Giveaway Rules:
This giveaway is open to US residents only. It begins on January 30, 2010 and will end on February 11, 2010 at 9 pm. One winner with a valid entry will be selected at random using random.org. The winner will be announced and must respond with a current email address within 48 hours to claim. Otherwise, another eligible entry will be chosen. Enter as many extra entries as you would like Theta Moms and good luck!
I was provided the Makeup Artist Starter Kit from e.l.f. I was not compensated for this review. These are my own honest opinions and experience with the product.