***This contest is now closed. Congratulations Tara Kelly! An email has been sent.***
The Brag Company was launched a few years ago by Jane Webb, a stay-at-home mother of 2 girls. The idea of starting this business came about when Jane spent some time traveling. She always noticed her expensive bras would get crushed, dented and creased within her suitcase no matter how well she packed them. This was really frustrating and she knew there had to be a better way to keep her delicates protected.
After chasing the idea to create a product that would protect her bras, she was met with months of failed product designs. But she soon developed the one that truly worked and that's the moment The Bra Bag was born! The world-wide success of The Bra Bag quickly turned into the development of the newly launched Panty Pak, a place to keep your "clean" and "not so clean" panties in their proper place! Riding on her success, she's worked with the famed Spanx Company and new product ideas are already in the works for 2010. The Brag Company has been featured on The Today Show and The Rachel Ray Show, and there is no question why because this product is fabulous! I reviewed both The Bra Bag and The Panty Pack in the Emily design.
The Bra Bag: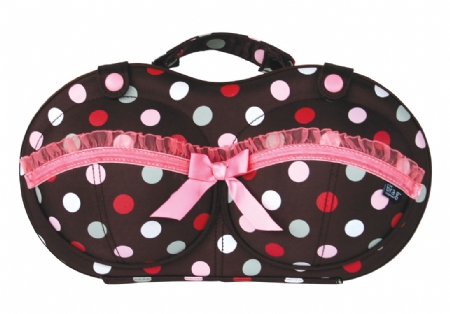 The Bra Bag holds up to six bras beautifully. Inside, you'll find it to be quite spacious and the bag itself is very sturdy. It has two snap enclosures on the top and a handle for easy carrying. With The Bra Bag, you will travel in style! Whether you are flying across the country or staying overnight somewhere local, you know your bras will be safely kept in the fashionable Bra Bag! There are many designs to choose from, so check them out here. This is an inside look at the Bra Bag: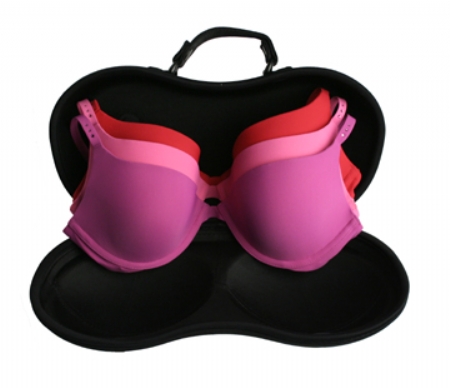 The Panty Pak: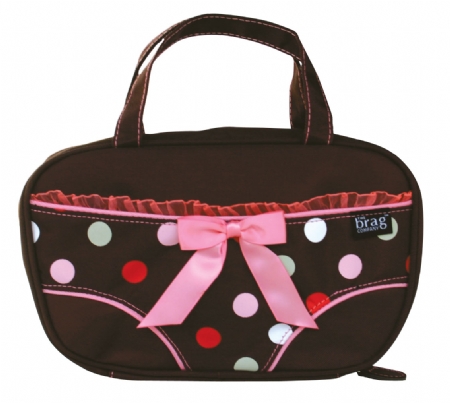 The Panty Pak is divided into two compartments inside, one for "clean" panties and one for "not so clean" panties. There is a mesh zippered bag for easy access. Ladies, how many times have you traveled and found yourself resorting to some plastic bags for holding your delicates? The Panty Pak will not only save you room in your suitcase, but all panties will have its proper place! The Panty Pak is a quality design that meets both fashion and function. How perfect? There many designs to choose from, so check out all Panty Paks here. This is an inside look at The Panty Pak: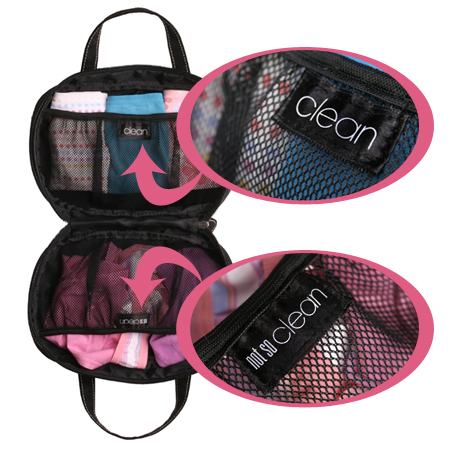 The Brag Company also offers other products such as The Mini Clutch and Bra Tags, so be sure to check out their full website!  You can purchase the Brag Bag for $49.95 here and the Panty Pak for $29.95 here  OR you can enter to win because The Brag Company is giving both The Bra Bag AND The Panty Pak to one lucky Theta Mom reader!!! How awesome is that???
How to Enter The Brag Company Giveaway:
 Required Entry: Follow my blog publicly and tell me you are.
 Extra Entries: (You must leave a separate entry for each extra entry to count and extra entries won't count unless the required entry is done)

1. Follow Theta Mom on Twitter here and leave me your twitter name. (1 entry)
2. Become a fan of Theta Mom on Facebook here and leave me your FB name. (1 entry)
3. Subscribe to Theta Mom via email. You must activate the subscription for this entry to count. (2 entries)
4. Subscribe to Theta Mom any other way. (1 entry)
5. Grab one of my cute buttons and add it to your website. (2 entries per button)
6. Click to vote for me at Top Mommy Blogs. Just click the banner on the right side bar and tell me you clicked. (2 entries)
7. Tweet this giveaway! Just copy/paste the following: Enter to win The Brag Company #giveaway (retail $79.90) @ThetaMom  http://tinyurl.com/yb2lzgh Please RT (1 entry per daily tweet)
8. Post about this giveaway on your blog and link back to me. Leave me your link to show the post. (2 entries)
9. Add Theta Mom to your blogroll. (2 entries)
Giveaway Rules:
This giveaway is open to US residents only. It begins on January 15, 2010 and will end on January 28, 2010 at 9 pm. One winner with a valid entry will be selected at random using random.org. The winner will be announced and must respond with a current email address within 48 hours to claim. Otherwise, another eligible entry will be chosen. Enter as many extra entries as you would like Theta Moms and good luck!
I was provided The Bra Bag and The Panty Pak in the Emily Design from The Brag Company. I was not compensated for this review. These are my own honest opinions and experience with the product.