***This contest is now closed, thanks to all who entered. Congratulations Kmama! An email has been sent.***
BUILT is a company that produces everything in protective neoprene fabric from bottle and camera accessories to lunch bags and kitchen accessories to laptop sleeves, bags and everything in between! This company believes that form is just as important to function and their slogan, "love your stuff" fits this philosophy perfectly. BUILT products include fun designs and colors to make life more interesting. So whether you are eating, playing or working, a BUILT product will certainly have what you need.
As a blogger, my laptop is a huge part of my life. And as a writer, it's my salvation. Especially when I travel (even if it's only to Grandma's house) I need to know my laptop is protected, safe and secure. I reviewed the 14'-15' BUILT Cargo Laptop Sleeve in fiery orange. This sleeve has three exterior pockets to store all of my necessary accessories and they don't scratch my laptop since they are stored in their own compartments. You can get the full details of this product here.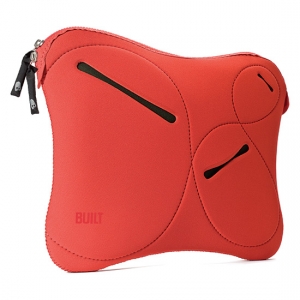 The neoprene fabric is soft and durable. My laptop slides in and out of this sleeve so easily. It has a full zipper running along the top and the three pockets on the front of this design are perfect for my mouse and other accessories. The Laptop Sleeve is available in many colors and sizes. BUILT even offers different sleeves for MAC and PC users, so you can immediately identify with what you need. Be sure to check out their full website for all things BUILT here and Become a Fan of BUILT on Facebook here.
You can purchase the BUILT Cargo Laptop Sleeve for $40.00 here or you can enter to win because BUILT is giving one lucky Theta Mom reader his/her very own Cargo Laptop Sleeve!!!
How to Enter The BUILT Giveaway:
Required Entry: Follow my blog publicly and tell me you are.
Extra Entries: (You must leave a separate entry for each extra entry to count and extra entries won't count unless the required entry is done)

1. Follow Theta Mom on Twitter here and leave me your twitter name. (1 entry)
2. Become a Fan of Theta Mom on Facebook here and leave me your FB name. (1 entry)
3. Subscribe to Theta Mom via email. You must activate the subscription for this entry to count. (2 entries)
4. Subscribe to Theta Mom any other way. (1 entry)
5. Grab one of my cute buttons and add it to your website. (2 entries per button)
6. Click to vote for me at Top Mommy Blogs. Just click the banner on the right side bar and tell me you clicked. (1 entry per click-can click up to 3x)
7. Tweet this giveaway! Just copy/paste the following: Great #giveaway for bloggers! Enter to win a Cargo Laptop Sleeve from BUILT @ThetaMom  http://tinyurl.com/ydhnxs3 Please RT (1 entry per daily tweet)
8. Post about this giveaway on your blog and link back to me. Leave me your link to show the post. (2 entries)
9. Add Theta Mom to your blogroll. (2 entries)
 Giveaway Rules:
This giveaway is open to US residents only. It begins on February 22, 2010 and will end on March 4, 2010 at 9 pm. One winner with a valid entry will be selected at random using random.org. The winner will be announced and must respond with a current email address within 48 hours to claim. Otherwise, another eligible entry will be chosen. Enter as many extra entries as you would like Theta Moms and good luck!
I was provided a BUILT Cargo Laptop Sleeve in fiery orange. I was not compensated for this review. These are my own honest opinions and experience with the product.