***This contest is now closed. Congratulations Skooks! An email has been sent. ***
Milkdot is lead by founder and creative director, Janet Cho who is also a mother of one. As a parent with an extensive background in design, Janet was on a quest to create safe, functional and reusable products that mirror a clean and modern design. Moreover, she wanted to ensure that she was producing a product that would provide parents the assurance that what they were purchasing was absolutely safe.
Taken directly from the Milkdot website Janet explains, "Like many parents, I had vaguely heard of PVC but never really knew what it was. Disturbingly, PVC (polyvinyl chloride) also known as the "poison plastic" is still used in many products. And in lunch bags, specifically, it can be found in the lining (which can have direct contact with food) and it is often used as a coating on polyester or nylon fabrics for durability. PVC is extremely harmful to our health and the environment, releasing poisonous chemicals linked to cancer and birth defects. Every Milkdot product goes through complete testing for lead and is lead-safe, PVC-free and BPA-free." I have to say as a Theta Mom, this gives me the peace of mind that when I use a Milkdot product, I know it is one of the safest on the market. I reviewed the Stoh Lunch Tote in pink: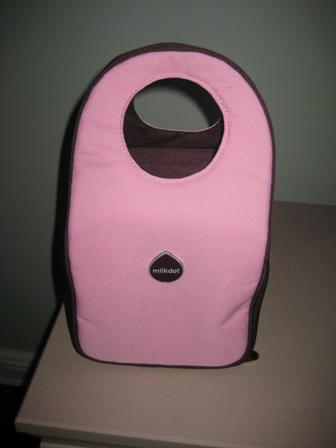 It is such a modern and stylish lunch bag that is also fully functional. There are so many times I am in need of a lunch tote with some kind of lining inside to keep juice, milk and other drinks and food cold. This tote is perfect for me when I take the kids out for a full day or even if it's just for a few hours. All necessary food and drinks are kept cool and organized in mesh pockets inside the tote and extra snacks fit perfectly in the little compartment at the back of the bag. I think my favorite design element of this tote is the magnetic closure at the top which keeps the handles together. The Stoh Tote by Milkdot is so chic and would also be perfect for a new mom that needs to keep formula cool, a busy working mom that wants fashion and functionality when carrying a lunch to work, or the busy stay-at-home mom that packs this tote for a day with the kids. The tote also comes in blue and would be perfect for children as well. You can get the full details of this tote here.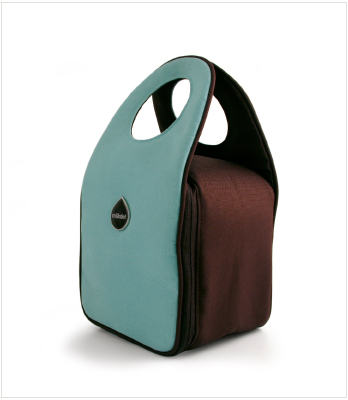 You can become a fan of Milkdot on Facebook here and follow Milkdot on Twitter here. You can purchase the Milkdot Stoh Lunch tote for $25 here or you can enter to win because Milkdot is giving one lucky Theta Mom reader a Stoh Tote!
How to Enter The Milkdot Giveaway:
****Required Entry: Follow my blog publicly and tell me you are.
Extra Entries: (You must leave a separate entry for each extra entry to count and extra entries won't count unless the required entry is done)

1. Follow Theta Mom on Twitter here and leave me your twitter name. (1 entry)
2. Become a Fan of Theta Mom on Facebook here and leave me your FB name. (1 entry)
3. Subscribe to Theta Mom via email. You must activate the subscription for this entry to count. (2 entries)
4. Subscribe to Theta Mom any other way. (1 entry)
5. Grab one of my cute buttons and add it to your website. (2 entries per button)
6. Click to vote for me at Top Mommy Blogs. Just click the banner on the right side bar and tell me you clicked. (1 entry per click-can click up to 3x)
7. Tweet this giveaway! Just copy/paste the following: Great #giveaway for any busy mom! Enter to win a Stoh Tote from Milkdot @ThetaMom http://bit.ly/c8QRZd Please RT (1 entry per daily tweet)
8. Post about this giveaway on your blog and link back to me. Leave me your link to show the post. (2 entries)
9. Add Theta Mom to your blogroll. (2 entries)
Giveaway Rules:
This giveaway is open to US residents only. It begins on February 28, 2010 and will end on March 11, 2010 at 9 pm. One winner with a valid entry will be selected at random using random.org. The winner will be announced and must respond with a current email address within 48 hours to claim. Otherwise, another eligible entry will be chosen. Enter as many extra entries as you would like Theta Moms and good luck!
I was provided a stoh lunch tote in pink from Milkdot. I was not compensated for this review. These are my own honest opinions and experience with the product.