***This contest is now closed. Congrats to Krista! An email has been sent.***
Flirty Aprons was founded by two couples who had a strong passion for the business world. Beginning with The Hansens, Heather Hansen has experience in the modeling industry and soon gained a love for fashion and design. She is the brain child behind the aprons' patterns and designs. Her husband Joseph Hansen has a business background and is responsible for overseeing the operations, marketing and finances of the business. The other couple includes The Taylors. Spencer Taylor has an economics background and is currently the Executive Vice President of the company. His wife Jamie Taylor enjoys the public relations aspect of the business as she is the company's Chief Operations Officer. Together, these two couples have built an exciting and successful partnership to what is now called Flirty Aprons. I reviewed the Chic Pink Flirty Apron which is actually one their best sellers: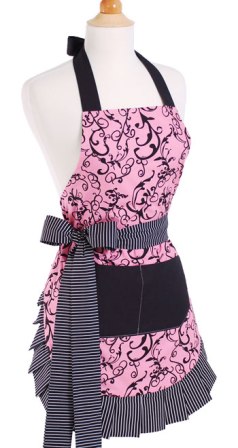 Many of you know I despise cooking. So you may be wondering why I would be interested in an apron – and that's just it – I NEED something to motivate me in the kitchen and this chic apron certainly works! I can't tell you enough how adorable this apron is in person! As the site states "look cute and feel great" and in my Flirty Apron, I sure do! The colors are so bright and the design is so fun, I really enjoy putting it on each time I cook. The apron is soft, made of 100% cotton with two little pockets in the front. It has a short ruffle that runs along the bottom and the apron gently ties around the neck and waist. I totally adore the side bow, too. You can get the full details of my apron here and you can find an array of designs to choose from, including aprons for men and children by visiting their full website here.
You can purchase the Chic Pink Flirty Apron for $30.95 here or you can enter to win because Flirty Aprons is giving one lucky Theta Mom reader to chance to win her very own Flirty Apron! Woo Hoo! 
How to Enter The Flirty Apron Giveaway:
****Required Entry: Follow my blog publicly and tell me you are.
Extra Entries: (You must leave a separate entry for each extra entry to count and extra entries won't count unless the required entry is done)

1. Follow Theta Mom on Twitter here and leave me your twitter name. (1 entry)
2. Become a Fan of Theta Mom on Facebook here and leave me your FB name. (1 entry)
3. Subscribe to Theta Mom via email. You must activate the subscription for this entry to count. (2 entries)
4. Subscribe to Theta Mom any other way. (1 entry)
5. Grab one of my cute buttons and add it to your website. (2 entries per button)
6. Click to vote for me at Top Mommy Blogs. Just click the banner on the right side bar and tell me you clicked. (1 entry per click-can click up to 3x)
7. Tweet this giveaway! Just copy/paste the following: Look cute with a Flirty Apron! Enter the #giveaway to win a Flirty Apron @ThetaMom  http://tinyurl.com/yz8taop Please RT  (1 entry per daily tweet)
8. Post about this giveaway on your blog and link back to me. Leave me your link to show the post. (2 entries)
9. Add Theta Mom to your blogroll. (2 entries)
Giveaway Rules:
This giveaway is open to US residents only. It begins on March 21, 2010 and will end on April 1, 2010 at 9 pm. One winner with a valid entry will be selected at random using random.org. The winner will be announced and must respond with a current email address within 48 hours to claim. Otherwise, another eligible entry will be chosen. Enter as many extra entries as you would like Theta Moms and good luck!
I was provided a Chic Pink Apron from Flirty Aprons. I was not compensated for this review. These are my own honest opinions and experience with the product.