***This contest is now closed. Congratulations Kristen! An email has been sent.***
Scentsy was founded in 2004 by Colette Gunnell and Kara Egan, two women who had the idea to design decorative warmers using melted wax from the heat of a light bulb rather than a traditional wick and flame. They were a small company based out of Utah which was eventually bought by Orville Thompson and his wife Heidi. Orville and Heidi moved the company to Idaho where they decided to market and sell Scentsy products to consumers through the use of home parties which has been extremely successful. Currently, Scentsy has 40,000 independent consultants and is recognized as an industry- leading company. What started out as a simple idea by two women has grown into a large company that reaches consumers from around the nation.
I was introduced to Scentsy for the first time by an independent consultant Erin Shiflett and I have to tell you I am very impressed! The main reason I love this product is the fact that I get the same effect and glow as I would from the flame of a candle but I don't have to worry about leaving the room while it's lit because the warmer is totally safe! I also love the fact that the aroma given off by the Scentsy bars (melted by the warmer itself) lasts long and fills up the entire room.
I reviewed the Wynken Scentsy Warmer from the Whimsey Collection. It has a curvaceous dish on the top with an embossed design and dot pattern on the outer part of the warmer. I especially like the high gloss finish and the detail of the handles. The Scentsy bars are placed in the top of the dish and when the warmer is plugged in, the light bulb inside not only presents a warm glow but also heats the bars in the dish giving off a wonderful scent! Here is a picture of my Scentsy warmer with some of the bars in the dish: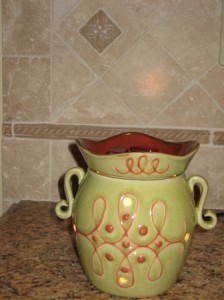 The three Scentsy Bars I reviewed were Cinnamon Vanilla, Home Sweet Home and Blueberry Cheesecake. Each one has its own distinct smell and they were all fabulous! Home Sweet Home I have to say right now is my favorite! If you ever had any reservations about lighting or keeping candles in your home, then Scentsy is the product line that you need to check out. And be sure to click here to find out how you can become a consultant for Scentsy just like Erin Shiflett. She would love to answer any questions you have!
You can purchase the Wynken Scentsy Warmer here and coordinating Scentsy Bars here or you can enter to win because Scentsy is giving one lucky Theta Mom reader the chance to win a $50 gift certificate to shop at Scentsy! How awesome!
How to Enter The Scentsy Giveaway:
****Required Entry: Go to Scentsy and tell me how you would spend the $50 AND follow my blog publicly and tell me you are.
Extra Entries: (You must leave a separate entry for each extra entry to count and extra entries won't count unless the required entry is done)

1. Follow Theta Mom on Twitter here and leave me your twitter name. (1 entry)
2. Become a Fan of Theta Mom on Facebook here and leave me your FB name. (1 entry)
3. Subscribe to Theta Mom via email. You must activate the subscription for this entry to count. (2 entries)
4. Subscribe to Theta Mom any other way. (1 entry)
5. Grab one of my cute buttons and add it to your website. (2 entries per button)
6. Click to vote for me at Top Mommy Blogs. Just click the banner on the right side bar and tell me you clicked. (1 entry per click-can click up to 3x)
7. Click to vote for me at Top Mommy Blogs in subsequent entries. (1 entry per daily vote/click)
8. Tweet this giveaway! Just copy/paste the following: Love Scentsy? Enter to win $50 to shop at #Scentsy #giveaway @ThetaMom http://bit.ly/bkNr8p Please RT  (1 entry per daily tweet)
9. Post about this giveaway on your blog and link back to me. Leave me your link to show the post. (2 entries)
10. Add Theta Mom to your blogroll. (2 entries)
Giveaway Rules:
This giveaway is open to US residents only. It begins on April 25, 2010 and will end on May 6, 2010 at 9 pm. One winner with a valid entry will be selected at random using random.org. The winner will be announced and must respond with a current email address within 48 hours to claim. Otherwise, another eligible entry will be chosen. Enter as many extra entries as you would like Theta Moms and good luck!
I was provided a Wynken Scentsy Warmer and a multi-pack of three Scentsy Bars from Scentsy. I was not compensated for this review. These are my own honest opinions and experience with the product.