***This contest is now closed. Congratulations Rondi! An email has been sent.***
The Pretty Peacock is owned and designed by Ana Talukder Simpson who believes that good jewelry requires "good juju." Much of her designs are influenced by her East Indian heritage, a culture that she completely embraces. Ana designs pieces at The Pretty Peacock which are handcrafted in her Seattle studio with pride and care. She aims to evoke an emotion and celebrate loved ones with every piece of jewelry that is created. Her pure passion for design lead her to begin this business, one that is rapidly growing! I reviewed the DreamWoven Sculpture Keepsake Pendant with Birthstones: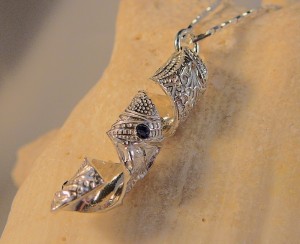 What is so special about this piece is that there are two birthstones incorporated so both of my children's birthdays are represented on this pendant which I hold close to my heart. The Dream Woven Sculpture Keepsake Pendant also has a Mehndi/henna pattern on the one side which certainly pays homage to Ana's culture. There is such attention to detail in this piece since it is completely hand-crafted from start to finish, made using eco-friendly fine silver with two AA grade gemstones. Every time I wear this keepsake, I feel as though my children are with me. As a Theta Mom, it is truly a meaningful and special piece of jewelry that certainly does evoke emotion. You can shop The Pretty Peacock using a 20% discount code: THETA
You can purchase the same DreamWoven Sculpture Keepsake Pendant with Birthstones for $136 here OR you can enter to win because The Pretty Peacock is giving one lucky Theta Mom reader the chance to win a Sweetheart Glass Locket Pendant with Sparkling Birthstones (pictured below) with full design details here. What a giveaway! Can you say gorgeous? What's even more exciting is that this giveaway is open to anyone anywhere!!!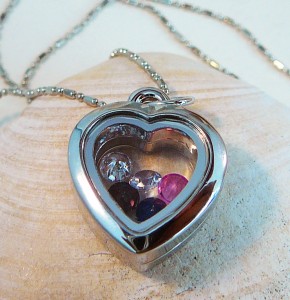 How to Enter The Pretty Peacock Giveaway:
****Required Entry: Visit The Pretty Peacock and tell me something you adore other than the above two pieces AND follow my blog publicly and tell me you are.
Extra Entries: (You must leave a separate entry for each extra entry to count and extra entries won't count unless the required entry is done)

1. Follow Theta Mom on Twitter here and leave me your twitter name. (1 entry)
2. Become a Fan of Theta Mom on Facebook here and leave me your FB name. (1 entry)
3. Become a Fan of The Pretty Peacock here. (1 entry)
4. Subscribe to Theta Mom via email. You must activate the subscription for this entry to count. (2 entries)
5. Subscribe to Theta Mom any other way. (1 entry)
6. Grab one of my cute buttons and add it to your website. (2 entries per button)
7. Click to vote for me at Top Mommy Blogs. Just click the banner on the right side bar and tell me you clicked. (1 entry per click-can click up to 3x)
8. Click to vote for me at Top Mommy Blogs in subsequent entries. (1 entry per daily vote/click)
9. Tweet this giveaway! Just copy/paste the following: Love jewelry with good juju? Enter to win #giveaway for The Pretty Peacock pendant @ThetaMom  http://bit.ly/cM6S73 Open to ALL! Please RT (1 entry per daily tweet)
10. Post about this giveaway on your blog and link back to me. Leave me your link to show the post. (2 entries)
11. Add Theta Mom to your blogroll. (2 entries)
Giveaway Rules:
***This giveaway is open to anyone anywhere!!! It begins on April 11, 2010 and will end on April 22, 2010 at 9 pm. One winner with a valid entry will be selected at random using random.org. The winner will be announced and must respond with a current email address within 48 hours to claim. Otherwise, another eligible entry will be chosen. Enter as many extra entries as you would like Theta Moms and good luck!
I was provided a DreamWoven Sculpture Keepsake Pendant with two birthstones from The Pretty Peacock. I was not compensated for this review. These are my own honest opinions and experience with the product.