***This contest is now closed. Congratulations Heather! An email has been sent.
I have said a million times on this blog that I feel lucky to have met so many amazing women through blogging. And somewhere along my blogging journey I stumbled upon Ivy League Insecurities, a blog written by author Aidan Donnelley Rowley, who just happened to publish her very first novel last month and it is doing amazingly well! I am not surprised though. As I wrote in this post she is clearly one of my favorite bloggers because she is one of the most talented writers I have come across in blogland. I hang on every word when I read her blog and I know that her novel Life After Yes is certainly no different.
I must be honest and tell you that I am nowhere near finished reading Life After Yes but what I can tell you is that from the very first page, I was hooked. Aidan's writing style is seamless and effortless and her story is so engaging. She writes about themes that every woman can relate to on so many levels. She has a way of capturing the reader's attention to make us want more…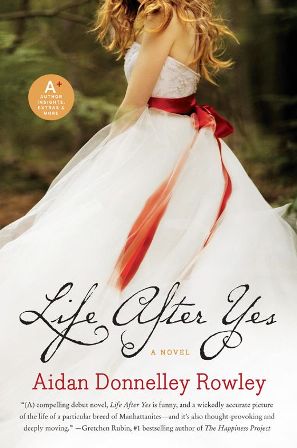 Taken directly from the back of the book cover so you get a full synopsis of this plot, "Life After Yes is the story of Quinn—born Prudence Quinn O'Malley—a confused young Manhattan attorney who loses her father on that tragic September morning that changed everything. Now, at an existential crossroads in her life, Quinn must confront impossible questions about commitment and career, love and loss. Her idealistic beau desperately wants a wedding, and whisks her away to Paris just to propose. But then Quinn has a dream— featuring judges and handcuffs and Nietzsche and Britney…and far too many grooms. Suddenly, her future isn't so clear. Quinn's world has become a minefield of men—some living, some gone, and traversing it safely is going to take a lot more than numerous glasses of pinot grigio."
To learn more, you can also join Kristen, author of the blog Motherese as she started a fantastic book club centered around Life After Yes and be sure to check out the recent post from Kristen as she has written a wonderful Q&A with Aidan Donnelley Rowley.
You can click here to find out where to purchase a copy of Life After Yes  or you can enter to win because Aidan is giving one lucky Theta Mom reader her very own copy! So how can you win? Simply follow my blog publicly AND leave a comment telling me that you would like to be entered! Easy peasy!!!
*For an extra entry copy/paste the following to tweet: Leave a comment @ThetaMom for your chance to win a copy of Life After Yes by @AdonnRowley http://bit.ly/aLSSgp Please RT
**This giveaway is open to US residents only. It begins on June 24, 2010 and will end on July 1, 2010 at 8 pm. One winner with a valid entry will be selected at random using random.org. The winner will be announced and must respond with a current email address within 48 hours to claim. Otherwise, another eligible entry will be chosen.
Aidan Donnelley Rowley provided me a copy of Life After Yes. I was not compensated for this review. These are my own honest opinions and experience with the novel.