***This contest is now closed. Congratulations Teresha! An email has been sent.***
Stella & Dot was founded by busy mother of two, Jessica Herrin. She co-founded weddingchannel.com in 2004 and wanted to put her business and creative talents to good use. With an education from Stanford combined with real world experience, Jessica was able to find a balance between career and home by creating Stella & Dot. She established a vision for this company by developing a business based on the concept of marketing a fabulous product through e-commerce and social networking as its foundation. This has lead to the major success of women running their own businesses representing Stella & Dot in the last few years.
I was introduced to Stella & Dot for the first time by an independent consultant, Seana Kromann, and I have to tell you I am very impressed. Part of the immediate draw for me (other than the gorgeous jewelry) was reading about how this company was established. Many young women with drive and determination have paved the way to show that with some creativity and hard work a "big idea" can turn into a reality. The founder and creative director of Stella & Dot certainly emulate this. I have read about this company in the press before but haven't had the opportunity to try the product until now. I reviewed The Garden Party Chandelier Earrings in ivory: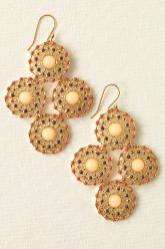 These gorgeous earrings have gold plated brass and hand painted enamel. They also have 14kt gold wires. Lately, I've been in need of sprucing up my wardrobe and feeling good about the way I look as a WAHM so these earrings are the perfect start. They are a wonderful accessory for date night with the hubs but I must tell you that they totally give me that beauty boost even when I am just running out with the kids to the store. I was impressed with how adorable and well made the earrings are in addition to what I have read. Stella & Dot is certainly a company that has built an amazing brand and it is one I fully endorse. They truly have an amazing product!
And be sure to click here to find out how you can become a consultant for Stella & Dot just like Seana Kromann. She would love to answer any questions you have!
You can purchase The Garden Party Chandelier Earrings in ivory for $54.00 here or you can enter to win because Stella & Dot is giving one lucky Theta Mom reader the chance to win $50 to shop at Stella & Dot! How awesome is this giveaway?
How to Enter The Stella & Dot Giveaway:
*****Required Entry: Follow my blog publicly and tell me you are AND visit Stella & Dot and tell me how you would spend the $50.
Extra Entries: (You must leave a separate entry for each extra entry to count and extra entries won't count unless the required entry is done)

1. Follow Theta Mom on Twitter here and leave me your twitter name. (1 entry)
2. Become a "Like" of Theta Mom on Facebook here and leave me your FB name. (1 entry)
3. Subscribe to Theta Mom via email. You must activate the subscription for this entry to count. (2 entries)
4. Subscribe to Theta Mom any other way. (1 entry)
5. Grab one of my cute buttons and add it to your website. (2 entries per button)
6. Click to vote for me at Top Mommy Blogs. Just click the banner on the right side bar and tell me you clicked. (1 entry per click-can click up to 3x)
7. If you have a BlogFrog profile, join my BlogFrog Community here and leave me your BlogFrog profile name. (1 entry)
8. Tweet this giveaway! Just copy/paste the following: Love Stella & Dot?  Enter to win $50 to shop  #stellaanddot #jewelry #giveaway @ThetaMom  http://bit.ly/9XjOd2 Please RT (1 entry per daily tweet)
9. Post about this giveaway on your blog and link back to me. Leave me your link to show the post. (2 entries)
10. Add Theta Mom to your blogroll. (2 entries)
Giveaway Rules:
This giveaway is open to US residents only. It begins on June 12, 2010 and will end on June 24, 2010 at 8 pm. One winner with a valid entry will be selected at random using random.org. The winner will be announced and must respond with a current email address within 48 hours to claim. Otherwise, another eligible entry will be chosen. Enter as many extra entries as you would like Theta Moms and good luck!
I was provided The Garden Party Chandelier Earrings in ivory. I was not compensated for this review. These are my own honest opinions and experience with the product.