Today, I am excited to have TMC welcome Melinda, author of the blog Parenting Confessions. Melinda and I actually began blogging around the same time and she has been an avid Theta Mom reader ever since. What I adore about Melinda is that she encompasses every quality of a Theta Mom. She knows motherhood is not perfect and completely embraces this on her blog. Melinda is an excellent writer who creates heartfelt, meaningful posts that keep her readers coming back. One visit to her blog and you will see how genuine she is! Here is how she describes her blog in her own words:
"Hi! I'm Melinda and I'm an imperfect parent. Shocking, right? But I can't tell you how long it took this recovering perfectionist to confess that simple, ridiculously obvious fact – and how downright freeing it felt once I finally did.
If you had "met" me a few years ago, you would have found me working overtime to earn my "Mommy of the Year" credentials. Not an easy task when you're chasing a tantruming two-year-old through the aisles of Books-A-Million as she screams like a banshee. Or when your little boy walks into the church auditorium with his underwear around his ankles. Perhaps these should have been early clues that my carefully constructed "Stepford Family" façade would be reduced to rubble.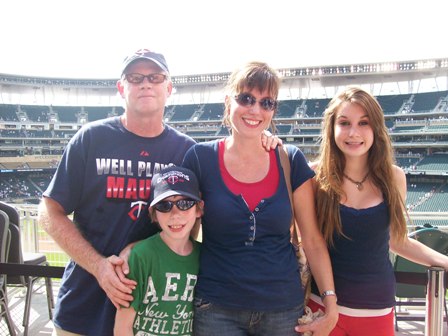 Maybe it was the exhaustion of trying to keep up an "image." Or maybe I realized the sheer absurdity of trying to achieve parental perfection, but I finally embraced God's grace – along with the messiness of raising two very strong-willed, independent children.
I'm mom to a beautiful, spirited, hysterically funny 13-year-old daughter. Now I'm the one who embarrasses her. (Revenge is sweet.) I also have an amazing 10-year-old son with cystic fibrosis who inspires me everyday – and still agrees to be seen with me (for now).
As a freelance writer, starting a blog seemed like a natural way to "come clean" about my parenting shortcomings and challenges and share what God is teaching me. My hope was that it would inspire other moms to share their struggles and hard-won wisdom, too. From day one, I've felt an incredible sense of community and support. I'd love it if you stopped by! I only have one rule: No perfect parents allowed."
So be sure to check out the blog and follow her on Twitter!  
New to TMC? Join us! We LOVE new members!
*Instead of leaving a comment here, please show some love directly on the blog of the Featured TMC Blogger. Have a fabulous weekend ladies!