TMC welcomes Gigi, author of the blog Kludgy Mom. I met Gigi from this very community and I have seen her blog go through many fantastic transformations over the last few months. She moved to WordPress, updated her blog design and even changed her domain name! In doing so, she is now in a really great space and ready to share it with you! I also love her definition of a "Kludgy Mom." Gigi is such a supportive blogger and has been an avid Theta Mom reader since the launch of TMC.
Meet Gigi and this is how she describes her blog in her own words: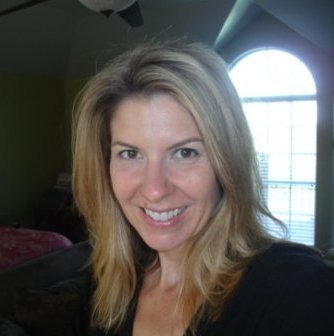 "I used to work in high tech marketing. There's a term in tech called kludge – which is an inelegant solution to a problem – basically, a patched-together fix. When I started blogging, "kludge" kept popping into my head: it applies to parenting, too!  A *kludgy mom* (clue-gee mom) is a mom who uses clumsy or inelegant, yet effective, solutions to household and parenting problems. A kludgy mom practices the art of embracing a life lived haphazardly. A kludgy mom doesn't follow a project plan. A kludgy mom makes things up as she goes along. A kludgy mom is not perfect, nor elegant, and often screws up. But somehow, it all works. I'm a kludgy mom. Maybe you are too.
I'm also a recovering lawyer, fumbling foodie, SAHM and displaced Californian now mired in the suburbs of Austin, TX. I have two kids, Boy Wonder, age 7, and Little CEO, age 5. My stories are heavy on the snark with a little bit of sap thrown in for good measure. I'm not afraid to talk about the elephant in the room. I try to make my blog a place where people can feel like they're having cocktails with a good friend. No judgments, but no holds barred. I hope you'll come and join me!"
Be sure to check out the blog and follow her on Twitter!
New to TMC? Join us! We LOVE new members!
*Instead of leaving a comment here, please show some love directly on the blog of the Featured TMC Blogger. Have a fabulous weekend ladies!!!