TMC welcomes Kat from Today's Cliché. I found Kat through this fabulous community and was intrigued by the fact that she blogs with her husband! Yes, that's right. Today's Cliché is co-written by a husband and wife team. They make a great pair, writing about posts that are so relevant to us all. And the title of their blog couldn't be any more fitting!
Meet Kat and her family – and this is how she describes her blog in her own words: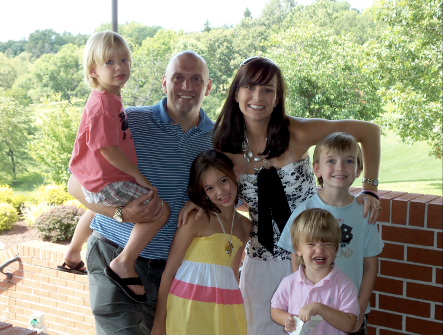 "I have a sneaking suspicion that I've fooled most everyone. The perception just might be (which is NOT, in my case, reality) that I have it all together. Four kids, a bustling business, and a He Said/ She Said Blog with the hubs. I'm lucky enough to also be married to this same guy: my soul mate. At BlogHer three weeks ago, I cannot even count on two hands the number times I got the "and your husband BLOGS WITH YOU? I can't even get mine to READ my blog!"  Hubs claims it's because he gets to call me out in a public forum with no recourse. He loves Today's Cliché because he can nail me on all of my idiosyncrasies for which there are no words; in fact, often he actually gets my peeps (mainly girls) to side with him. The nerve!
On Today's Cliché, it will be apparent that I'm simply just a spaz at heart. I'm the one who makes lists upon lists upon lists upon lists; for myself, the sitter, my husband, and my kids. I don't miss one detail.  Ironically, as the car heaves away with my family of six in tow… (picture the most obscene caricature drawing in your head right now) and we are a good hour from home I scream: "AHHHHHH!  I FORGOT the … (you name it: driver's license, the ticket, the BABY!).
I focus on all of the wrong things: the things for which I cannot control. Whether it's what I desperately want from Overstock.com that's going to sell out before I save enough cash to buy it (we're on a serious debt diet – it stinks). Or, worrying about where my kindergartner will go to for Middle School. Or, I obsess over calculating if my roots will be grown out from the overpriced salon appointment I just had — exposing all of my gray follicles — by the time Bloggy Boot Camp in Philly rolls around.  Another constant worry: if I'm going to offend anyone in my posts. I need to get over all of those things. Again, I focus on the wrong things: those of which I can't control.
Please tell me you can relate. Misery loves company (although I am far from miserable today! Heck, my kids all went back to school this morning. The most wonderful time — and DAY — of the year)! I need to get to know more imperfect women so I don't feel like such a failure, some days."
Be sure to check out the blog and follow her on Twitter!
New to TMC? Join us! We LOVE new members!
*Instead of leaving a comment here, please show some love directly on the blog of the Featured TMC Blogger. Have a fabulous weekend ladies!!!