TMC welcomes Mandi, mom of one and author of the blog Mandi Miller Blog. I can't even tell you when Mandi started reading Theta Mom because she's been here from very early on. She is such a supportive blogger and like many other Theta Moms, Mandi knows how much motherhood has been life changing and so she started to blog about imperfection; yes, another *real* mom wanting to connect with others. Here is how she describes her blog in her own words:
"Hello to all of you wonderful Theta Mom readers! My name is Mandi and I'm a wife to an amazing guy and mom to a beautiful little girl. In two years I moved from my home to attend school in Missouri, met my future husband, eloped (oh yes we ELOPED), moved to another state, got pregnant three months into our marriage and had a baby just a few weeks shy of our one year anniversary.
Whew… just thinking about it makes me tired!
Don't get me wrong, I loved every second and wouldn't change anything but it all happened so fast. Being a new mom, in a new state, with a new husband, with no family and few friends made me feel disconnected from the world. To top things off I somehow got it in my head that everything needed to be perfect. I should be a perfect mom, be a perfect wife, cook perfect meals and keep my house in perfect condition. It was a recipe for disaster.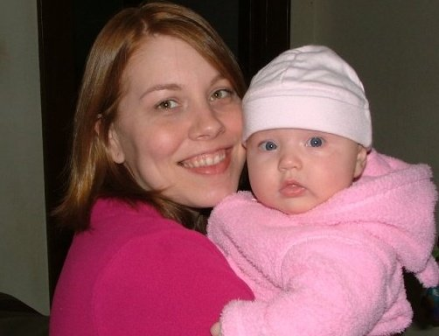 I started blogging when I finally realized perfect doesn't exist. In the last year I have been challenged as a writer, "met" many talented women and learned so much about parenting. My blog is a place for people to laugh about the mistakes we make when trying to be perfect. You will not find me posting pictures of my beautiful and clean house. You will not find articles about how my daughter eats everything I eat. You will not find tips on how I lost all of my baby weight and look like a supermodel. Those things don't exist in my life. What you will find is someone who is trying to do my best as a mom but can also laugh at my epic failures. (Believe me, there are many.) I want moms out there to know (perfect or not) you make a difference in the life of your children just by being you. I love the Theta Mom Community and I am beyond excited to have you visit!"
Be sure to check out the blog and follow her on Twitter!
New to TMC? Join us! We LOVE new members!
*Remember the new changes to TMC: In order to be considered as a future Featured TMC Blogger, you must be a member and leave a comment on the blog of the current Feature Blogger, so be sure to retweet and show some love! Have a wonderful weekend ladies!