TMC welcomes Cate, author of the blog Real Life with Kids. She is another blogger I found through this very fabulous community and once you visit and tweet with Cate, you will see how much she loves blogging! I have gotten to know her better through many conversations (especially on Twitter) so be sure to check her out! Here is how she describes her blog in her own words: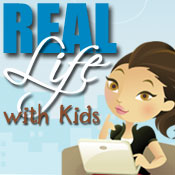 "Hi, I'm Cate and I've been a mom for almost 13 years.  I started my blog Real Life with Kids because I wanted a place to tell my stories.  I really started it just to tell the funny ones because (I know you'll be shocked) the embellishments I like to add to my stories (not to mention the hand gestures) are not easily contained within Twitter and Facebook limits.
Real Life with Kids started off in February of this year and I have been humbled and amazed by the gracious, beautiful, snarky, intelligent, and hilarious women I have met in the blogging community.  Meeting and getting to know such incredible women helped inspire me to make a career change that I may not have ever made otherwise.  In April I took the leap and applied for a position on the buying team at my company, Hayneedle. This, after having spent the previous 4+ years building the recruiting program for the online retailer.
I have 3 kiddos – Itchy, my almost 13 year old daughter, Scratchy, my 11 year old son, and Trouble, my 7 year old baby boy.  In 1996 I married the man of my dreams and then convinced him to move to Nebraska to become a Husker.  He now owns more Husker clothing than I have ever had personally in my entire life.  We also have 2 golden doodles, Catie & Cooper and they show up occasionally on my blog.
My tagline over at RLWK is "Real Life is funny. And messy. And frustrating. And delicious."  Life with kids has so many flavors – kind of like "Bertie Botts Every Flavor Beans" and you never know which ones the day is going to bring.  Fortunately, it's usually a combination of dirt, bubblegum, pencil eraser, and cheesecake.  My goal with my blog (and I'll admit it is still evolving) is to share those flavors in my stories and to hear about yours."
Be sure to check out the blog and follow her on Twitter!
New to TMC? Join us! We LOVE new members!
*Remember the new changes to TMC: In order to be considered as a future Featured TMC Blogger, you must be a member and leave a comment on the blog of the current Feature Blogger, so be sure to retweet and show some love! Have a wonderful weekend ladies!