***This contest is now closed. Congratulations Sara! An email has been sent.***
Elf on the Shelf was created by Carol Aebersold and her daughter Chanda Bell. Carol is the author of the book Elf on the Shelf: A Christmas Tradition which started out as a hardbound book based on the traditions she remembered growing up as a child herself. She wanted to instill the same kind of Christmas memories of incorporating the elves and how they report back to Santa with her own daughter. Since the launch of that children's book, this tradition is now loved by families from across the globe who share in the true magic of the season.
The story is based on the idea that Santa has helpers called scout elves who stay in your home at Christmas time to "watch" and see if the children have been 'naughty or nice.' The elf then flies to the North Pole and reports to Santa on how they've been doing. There are two rules that must be followed though; you must never touch the elf as it may lose its magic and the elf cannot talk (it can only hear and reports directly to Santa). We had the honor of testing out the Elf on the Shelf in our own home and he sits happily high up on our fireplace mantle: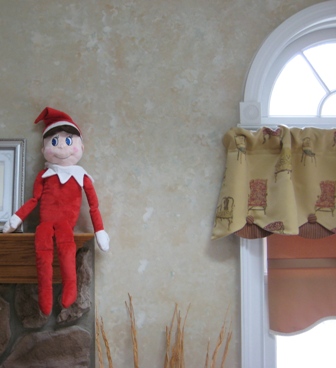 My five year-old son has been so excited since the elf arrived at our house. My son really believes that this magic elf is reporting to Santa so the moment he begins to drive me crazy or doesn't listen all I have to say is, "I hope the Elf on the Shelf saw that…." and the behavior quickly changes. We also received the 19" plush pal (called the scout elf) who actually flies back and forth to the North Pole. He magically appears at a different part of our house each morning. As soon as my son wakes up, he walks around the house to see where the scout elf has landed. It is the cutest thing I've seen and I really have to capture my son's excitement on film as he searches around the house to see the new spot where the elf has flown.
I can't wait to continue this tradition with my son and my little girl because it not only generates the magic of Christmas, but it certainly helps this Theta Mom in terms of keeping my kids' behavior in check around the holidays!!!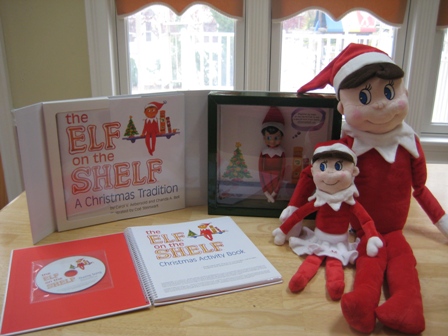 You can purchase anything you see in the above photo here and be sure to check out the full line of products to meet all of your special holiday traditions and needs through the full website. You can also follow Elf on the Shelf on Twitter and Facebook to stay updated with the latest holiday promotions and information!
The Giveaway:
The Elf on the Shelf is offering one lucky Theta Mom reader his/her very own Elf on a Shelf 32" Plush Pal and I made this so easy for you to enter!
To Enter: Simply follow my blog publicly and "like" Theta Mom on Facebook and tell me you are. So easy!!
Want an extra entry? Follow me on Twitter and copy/paste this tweet as often as you like: Leave a comment to #win @elfonshelf #giveaway @ThetaMom The perfect gift for your little one this holiday! http://bit.ly/abi1KC Please RT
*This giveaway is open to US residents only and will end on December 1st. One winner will be selected at random and will be contacted via email. I was provided an Elf on the Shelf Christmas Activity book, a 19" Plushee pal with matching skirt, a 32" Plushee Pal and the Elf on a Self Christmas Tradition Gift Set which includes a North Pole scout elf and a hard-bound children's book with keepsake box from The Elf on a Shelf to facilitate this review. These are my own, honest opinions about the products which are reflective of my family's experience.