TMC welcomes Molly, author of the blog A Day in Mollywood. Molly is one of those bloggers you will love the moment you visit her site. Not only is her blog beaming with all kinds of eye candy, it's full of meaningful content. Her story is one that you must read and she is blogger I really hope you take the time to visit and get to know. Here is how she describes her blog in her own words: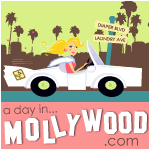 "My blog is a fictitious land that I refer to as Mollywood. Why Mollywood? Well, because I have always had a flair for the dramatic. And Hollywood seems like the birthplace of drama. And my name is Molly so I squeezed out the letter H, added the letter M and up popped the best little blog ever. Okay, maybe not ever.
I started my blog a little over four years ago. I started writing short stories and poetry when I was six-years-old and although I tried, I never lost my passion for the written word. I filled countless journals throughout my teenage and young adult years. Although I have a journalism degree and a master's in literature my full-time career does not involve writing. I think that's why I started blogging. To fill the creative void. But it did so much more than that. Blogging has connected me to a community filled with so many strong women with amazing stories to share.
I write honestly about my busy life as a working mom to two beautiful boys. Landon is 2.5-years-old and Brigham is 9-months-old. And no, we didn't plan to have kids that close in age. But what was the biggest surprise of our lives also turned out to be the biggest blessing.
Most days I'm smitten with motherhood. It's everything I never knew I wanted. Then there are the days where mac & cheese and an episode of Mickey Mouse Clubhouse will have to do. Hey, nobody's perfect. Mollywood certainly reflects those imperfections. I want it to be that comfy, cozy blog that can make you smile and cry in one post. If you have ever found yourself crying in the card aisle of the pharmacy than you will probably want to subscribe.
One of the most difficult blog decisions I have made was to go public about my struggles with bipolar II disorder. It hasn't been easy to turn myself inside out and pour my truth onto the pages of a public forum. But I see no reason to sugar coat this part of my life. Remaining silent won't help anyone. I choose to be loud about living with mental illness because if I can help just one person. If I could hold their hand and whisper, "Just hold on one more day. The pain will subside. I know because I've been there." Then sharing the pain will have been worth it. I want people to know that they CAN live a happy and successful life with bipolar disorder.
So, take the tour of Mollywood and if you like what you see I hope you'll follow me on my journey. Enjoy the detour!"
Be sure to check out the blog and follow her on Twitter!
New to TMC? Join us! We LOVE new members!
*To be considered as a Featured TMC Blogger, be sure to comment on this week's feature! Have a great weekend ladies!