TMC welcomes Shell, author of the blog Things I Can't Say. Shell has been an avid Theta Mom reader for quite some time and I was thrilled when she joined us here at TMC. She writes from a very authentic place on her blog, sharing her motherhood experiences in a way we can all relate to. She prides herself on building relationships in this bloggy space so be sure to show her some TMC love! Here is how she describes her blog in her own words: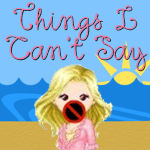 "I'm so excited to be here on Theta Mom today. Heather's tagline really speaks to me and what my blog is about.
I'm Shell and I blog at Things I Can't Say. My blog name came to me one day when I was telling a story that I thought was hilarious on my family blog and my family did NOT find it hilarious. I realized there were "things I can't say" on my family blog, so I started a second, anonymous blog to share things I might get judged for by family: total mom fails, marriage issues, and how hard this whole motherhood thing is!
From trying to make new friends after having kids (I have a special name for what happens to the mean girls from junior high after they grow up and procreate – you can find that on my memes tab) to trying to figure out how to not only take care of my family, but to take care of me, too. I pretty much spill it all on my blog.
Every Wednesday, I host a Pour Your Heart Out linky where I encourage everyone to pour out something that has been weighing on their mind or an issue that is important.  It's like a mini-therapy session and a great way to really get to know other bloggers.
It's the fabulous friendships that I've made that make this whole blogging thing worthwhile.  And I can't wait to meet you!"
Be sure to check out the blog and follow her on Twitter!  New to TMC? Join us! We LOVE new members!
*To be considered as a Featured TMC Blogger, be sure to comment on this week's feature! Have a great weekend ladies!