Aside from sheer panic realizing Thanksgiving is about one week away and the holidays are almost officially upon us, I am doing something today I don't often have the opportunity to do…
It gives me great pleasure to announce that I am guest posting at Katie's place, Sluiter Nation, writing about something near and dear to my heart – community, the blogging kind.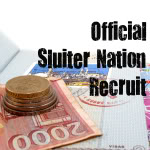 I am thrilled to be "recruited" today, so I hope you'll stop by and visit me there. I turned the comments off here so that you're encouraged to take a moment to click over there!