Dropping my son at school on the eve of the anniversary of my Nana's death, my son whispered in my ear, "Mommy, I would like to visit Nana today. I want to give her this."
And he handed me a folded pink piece of paper.
To you, it would look like nothing more than some silly child scribble – but to me it's the most meaningful drawing I've ever seen from him. My son described to me that he drew three people in that picture – him, his sister and his Nana. They were on the beach and playing in the sand while the sun peeked in and out of the white clouds. He has so many fond memories of going to the beach with her and wanted her to know just how much he remembered her.
And how much he loves her – and misses her.
My son just turned three when she passed and I am amazed at how much he remembers.
I've written a lot about her and my son in the past, so I am sharing one of my favorite posts I know you will enjoy: An Idea of Divine Perfection. I hope you take a moment to read that post as I honor one of the most remarkable women to have ever entered my life.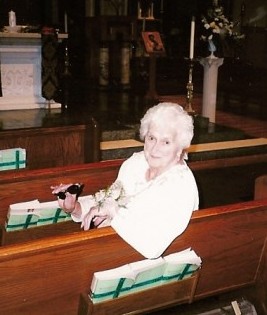 1919 – 2008
Wife, Mother, Nana