I am very passionate about education. As a former Adjunct Professor and elementary school teacher for many years, I am always searching for the latest education news because I want to stay updated on the newest trends. And as a mom to two children, ensuring they receive a quality education is at the forefront of my agenda. And now that I know about Noodle, my quest for all things education has now been solved.

From the Founders of The Princeton Review, meet Noodle.org the first and only life-long education search engine that provides users with free access to education information as well as interactive learning tools.
The site provides a personalized recommendation search engine to help users (K-12 as well as Higher Education) find the best schools and programs to fit their needs. I can't tell you how many schools I searched to find the "right" fit for my son when he was entering Kindergarten. I wish I knew about Noodle Education back then!
Once you are on Noodle.org, you have the chance to narrow your search selection and you can also engage with friends, family and others who have shared experiences. The site enables users to save and share their findings directly from the site via social media platforms such as Facebook and Twitter. No need to search the web for education news now that there's Noodle Education!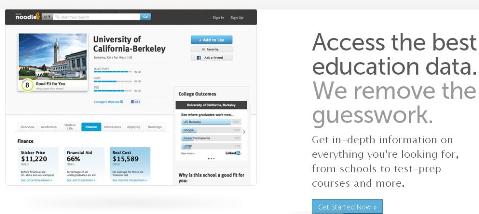 Headquartered in New York City, Noodle was created in 2011 by a powerhouse team of education innovators. The company has been recognized by Forbes Magazine as "one of the 6 fastest growing tech companies" and hailed by Mashable, as "one of the 5 startups transforming online education."
Here are some facts about Noodle.org:
Allows users to search colleges, graduate programs and K-12 schools
Find study abroad programs
Identify the best local tutors and test prep programs
Search for a guidance counselor or education consultant
Access an array of learning materials
And the best part? The search engine is completely FREE. According to Noodle Education's website, "Over 3 billion searches related to education occur monthly but research indicates that these searches typically end with more questions than answers. Noodle.org addresses the need for an effective internet resource to search and recommend schools, programs, providers and content for education. Noodle.org features data on over 130,000 schools and hundreds of thousands of education providers."
So, what are you waiting for? Get started with a FREE account and start searching Noodle today. You can also instantly connect with Noodle Education on Facebook and Twitter.
{Disclosure: Theta Mom® abides by word of mouth marketing standards and believes in honesty of relationship, opinion and identity. I was compensated for this sponsored post. However, all thoughts and opinions expressed are purely my own.}