I am thrilled to announce Lunchbox Love® is having their very first Pin Party with the #LBLmoms Team! Who doesn't love getting great ideas from Pinterest? I can't wait to share some spooky Halloween ideas and how to dress up your Thanksgiving table with Lunchbox Love! Thursday is your chance to spread some holiday love and enter to win some fantastic prizes, too!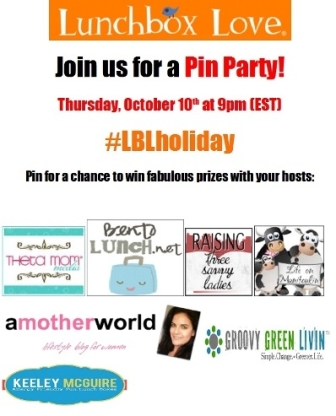 Prize Information:  Lunchbox Love® will be awarding winners with the Lunchbox Love® Holiday product line! *To be eligible for prizes, participants must follow the Pin Party with Lunchbox Love® Contest Rules.
*Pin Party with Lunchbox Love® Contest Rules:
1. Follow Lunchbox Love on Pinterest.
2. Create a Pinterest board called Lunchbox Love Holiday. 
3. Repin at least 8 pins directly from Lunchbox Love's Pinterest board Lunchbox Love Holiday  onto your own Lunchbox Love Holiday Board and use the hashtag #LBLholiday on every repin.
4. Enter the link to your Lunchbox Love Holiday Pinterest board using Rafflecopter which will be available on the Say Please blog by Thursday.
See you there and happy pinning!