So, it's official.
I've been in the blogosphere for a month now and the connections I've made with so many bloggy friends have been nothing short of incredible. This experience has been far more rewarding than I could have ever imagined and it is due in part to the amazing women I've met along the way.
I am truly honored that my fellow bloggers have recently given me the following awards. It makes me feel that what I write matters, that my voice is being heard somewhere in cyberspace, and that I have made an impact in some small way on the blogosphere. That in itself makes this all worth the ride!
So, I decided to blog these awards forward in one long post. Although there are so many blogs I love and visit daily, I thought I wouldn't disappoint if I just chose five blogs for each award to pass on. If you've been awarded, please be sure to scroll down to see which award you've received!
Alright Theta Moms, here we go…

INSPIRATIONAL BLOG AWARD:
Karie from The Five Fish awarded me the Inspirational Blog Award. I'm so flattered because she's such an inspiration to me! She always writes with true compassion and conviction…she continues to make me want to be a better blogger.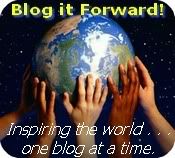 Here are the rules with this award:
• Blog about this award linking to the person who awarded it to you.
• Share the award with other bloggers who inspire you.
• Comment on their blog directing them here: http://tiny.cc/BlogItForward541 so that they may blog it forward and grab the code for the button.
Here are some blogs that inspire me:
You Don't Know…
A Nut in a Nut Shell
The Confused Homemaker
How to Survive Life in the Suburbs
Mommie Daze
ADORABLE BLOG AWARD:
Stacie from Supermommy to the Rescue awarded me TWO awards! The Adorable Blog Award and It's a Major Award. Stacie's blog is always a fun read and she's definitely one of my favorites!

Rules for The Adorable Blog Award:
1. Include the award logo in your blog or post.
2. Nominate as many blogs as you like.
3. Be sure to link to your nominees within your post.
4. Let them know that they have received this award by commenting on their blog.
5. Share the love and link to this post and to the person from whom you received your award.
Here are the blogs I am passing The Adorable Blog Award on to:
Conversations With Moms
Living in France
Pink Nothings
Southern Domestic Goddess
It's a Beauty Filled Life

IT'S A MAJOR AWARD:
Again, given to me by Stacie, the rules for It's a Major Award are:
This award is for anyone who likes to smile and/or laugh, and just generally spreads that along in the blogging world we all travel in.
Here are some blogs that make me laugh and/or smile:
More Than Words
Luscious Deals
Hip Mama's Place
Hands, House and Heart Full
Kiddies Corner Deals


MEME AWARD:
This award came to me from fellow blogger, Momma Such from Raising My 4 Sons. I had the pleasure of finding her blog recently and I always enjoy my visits there!
Here are the rules for this award:
*Acknowledge the person who gave you the award.
*List 7 Personality Traits about yourself.
*Pass the award on to 7 other blogs that deserve recognition for the personalities that they share with the blogging world.
My 7 Personality Traits:

1. Creative: I love anything creative. As an elementary school teacher for ten years, I've learned some great tools of the trade. I try to do fun creative projects with my own kids. I think this is another reason why I love blogging so much…you get to show your creative side!
2. Worrier: I am one of those people who worry… a lot. Sometimes, it's over the silliest things. I really have to work on that!
3. Friendly: I love to meet new people, which is why this whole blogging thing is so addictive!
4. Intelligent: I am very proud of the fact that I have an Ivy League education. I worked extremely hard for that degree.
5. Funny: Or at least, I think I am!


6. Organized: I am ridiculously organized. I love a clean home and an organized life. My kids will probably grow up the same exact way because their momma is a neat freak!
7. Stubborn: Although I don't like to admit this one, I am. When I want something, especially a certain way, it's just got to be that way…
Here are the blogs that have earned the Meme Award:
Living Life on Little Sugar Creek
Escape to My Thoughts
Capital Mom
Too Many Hats
Hearts and Hands


I LOVE THIS BLOG AWARD:

Baba from Babas Farm Life graciously gave me this award, so go check her out.
The rules for this award are:
1) Grab the Award and link love the person whom you got the award from.
2) Pass the award to different bloggers whom you think are deserving of this award.
3) Write a post about the award and there you'll link the person who gave the award to you and those people who you'd like to pass the award.
4) Continue your passion in writing because your hard work will always be appreciated.
I'm passing this award on to:
Coming Clean: Confessions of an Imperfect Parent
Domestically Challenged
Wee Shenanigans
Our Nifty Notebook
Teresa's Treasures
HUMANE AWARD:

Meg from Meg's a Mommy awarded me the Humane award. Be sure to check out her blog!
The Humane Award honors bloggers that are kindhearted individuals. They regularly take part in my blog and always leave the sweetest comments. If it wasn't for them, my site would just be an ordinary blog.
Their blogs are also amazing and are tastefully done on a daily basis. I thank them and look forward to our growing friendships through the blog world.
Link back to the person who gifted you with the award and share the love with other bloggers.
A Woman's Life Stages
Guessing All the Way….
Simply Blessed
3 Little Ones
My Take on Mommyhood
Once again, thank you for all of the bloggy love and support over this past month! You've made my entrance into the blogosphere such an amazing experience! I look forward to building these relationships, making more connections and continuing this journey together.
We are all Theta Moms, redefining the role of motherhood…one mom at a time.