It's Time Out for Theta Mom Thursday! For those of you visiting for the first time, the goal is to grab one hour of time within one week to do whatever you want…without the kids. It's such an amazing proposition, I know! On Thursdays, post how you spent your "time out" (add my button from the right side bar or link to me) and be sure to stop here to link up and meet other Theta Moms to see how they spent their time out!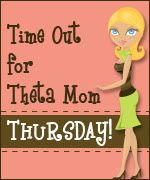 Well, it was time ladies. I've been frazzled lately with the drama of getting ready for pre-school and with the summer coming to a quick close, it was time to call Grammie and PopPop.
You know, for some quality babysitting!
My parents walked in the door and my husband and I just barely made it out of the house. Did I ever to tell you how easy it is to have everything ready for the "sitter" while trying to get ready myself? Yeah, right… Seriously, this is when time seems to fly faster than any other point in my day.
We managed to get out in time to meet our son's teacher at pre-school. The administration hosted a back-to-school night and it was so exciting to meet some of the parents, check out his classroom, and of course, learn all about the curriculum.
But, this doesn't sound like much of a time out, right?
Well, after we attended the pre-school event, my hubs and I got in the car and looked at each other…
Hubs: "Do you wanna go home?"
Theta Mom: "Uh, not really."
Hubs: Asking with a smile, "Well, are you thirsty?"
Theta Mom: I knew I married him for a reason. He's so smart. "Great idea!"
Hey, when you have someone watching your kids, you need to take advantage when the opportunity presents itself. No WAY did we want to rush home!
And with that, we drove to one of our fun "hang-out" spots and ordered two large beers. We devoured some awesome buffalo wings and just talked and talked and talked…
What can I say? Some ice-cold beers, great buffalo wings, and spending time with my man…without any children to be found. Just another awesome time out for Theta Mom!
How did you spend your one hour? Don't forget to link up and check out how other Theta Moms spent their time out! I am so loving this!!!