It's Time Out for Theta Mom Thursday! For those of you visiting for the first time, the goal is to grab one hour of time within one week to do whatever you want…without the kids. It's such an amazing proposition, I know! On Thursdays, post how you spent your "time out" (add my button from the right side bar or link to me) and be sure to stop here to link up and meet other Theta Moms to see how they spent their time out!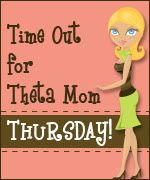 So this week, I did it.
I really did it.
Honestly, I must to tell you though, I was dreading it. When I was first married, doing it was such a part of my life. It became routine and I was able to fit it into my schedule without fail. I actually looked forward to it because it was something I was doing for myself. It felt good for my body and spirit, and at the time, I was so addicted to it that when I didn't do it two days in a row I would feel guilty. And so ladies, I decided I needed to start doing it again…
I put one foot in front of the other, took a deep breath and slowly pressed START…
That's right Theta Moms. For the first time in ages, I spent time with Mr. Tread Mill.
When I had Baby #1, I was back in my skinny jeans within 6 months. It's been almost a year and I am nowhere near my skinny jeans right now. Since the birth of Baby #2 almost one year ago, I haven't spent much time with Mr. Tread Mill. Hence, I still have some unwanted pounds that have stuck around since delivery, or should say pregnancy?
This whole "time out" thing has really inspired me. It certainly has proven one thing to me; although I do not enjoy running (I was never a runner nor do I ever have aspirations to be one), when I used to go to the gym daily, I looked great and felt great. Now at this point in my life, this is where I want to be again. Especially after having children, I want to feel good about my body again.

For me, it really isn't about the skinny jeans anymore. It's about feeling great in my own skin within a pair of jeans.
Having said that, I spent my one hour with Mr. Tread Mill, sweating, gasping, and yet totally invigorated because this was something I was doing for myself and nobody else. Not for my husband, not for my kids, just-for-me. Was it hard work? Absolutely. Will it continue to be? You bet. Is it worth the pay-off? You better believe it.
Ultimately, my goal is not to lose a million pounds. Right now, it's just about feeling good about my body, every inch of it. It's about getting healthy, toning up and feeling stronger.
This time out was just the beginning for me. Spending some QT with Mr. Tread Mill will help me get there, and ladies I must say, it's a damn good start.
How did you spend your one hour? Link up and share your time out with other Theta Moms! Also, if you haven't done so, don't forget to enter my Bummas Giveaway which ends Sunday. You can enter here.