It's Time Out for Theta Mom Thursday! For those of you visiting for the first time, the goal is to grab one hour of time within one week to do whatever you want…without the kids. It's such an amazing proposition, I know! On Thursdays, post how you spent your "time out" (add my button from the right side bar or link to me) and be sure to stop here to link up and meet other Theta Moms to see how they spent their time out!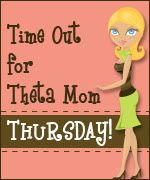 The hubs and I were invited to a birthday party (adults only) over the weekend. I have been looking forward to this party for weeks now since it's an opportunity to get out of the house without the kids and enjoy some adult conversation. And a few glasses of wine doesn't hurt a girl either! But to my dismay, after trying to make arrangements to get someone to watch the kids for the evening was not happening. All of my family members were invited to this party as well, so that made it even harder to find a sitter.
The night before the big bash, my husband turned to me and said, "Why don't you go? I'll watch the kids….you go and enjoy yourself. You could use a night out."
"Huh?" I had to hit the rewind button on that one…
"Really? You don't mind?"
In retrospect, my hubby had to get up early the next morning, so I think that helped him to make this enticing offer. He wouldn't really have a good time knowing he would have to get up so early the next day. So hey, regardless of his true motive ladies, it was music to my ears and I ran with it! Who doesn't love good birthday cake anyway?
So on Saturday night, I had fun getting all dressed up. I wore a really cute outfit, put on some adorable jewelry and I felt fabulous! The mere thought of knowing I was going to talk with friends that I adore over some cocktails was just so exciting!
I arrived at the party fashionably late and had the best time. I caught up with some family members, enjoyed some time with the birthday girl and had my fair share of cocktails. It was a rockstar time out for me this week for sure…and no kids in sight!
If you are participating in Theta Mom Thursday, link up and share your time out with other Theta Moms! How did you spend your one hour?