It's Time Out for Theta Mom Thursday! For those of you visiting for the first time, the goal is to grab one hour of time within one week to do whatever you want…without the kids. It's such an amazing proposition, I know! On Thursdays, post how you spent your "time out" (add my button from the right side bar or link to me) and be sure to stop here to link up and meet other Theta Moms to see how they spent their time out!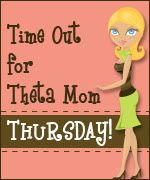 Before I get to my time out, I have to share my frustration lately over Google/Blogger with all of you:
If you thought I was a little MIA this week, it's not because I wasn't reading your blogs, it's because if your blog is set-up to accept comments from Google account holders only, I am having a difficult time signing in to leave a comment! It's hit or miss, sometimes I can't get in at all and other times it takes 5 years for the comment page to load and 5 years to sign out. It's a real problem. And honestly, I don't have 5 years to wait.
My Google Reader is completely messed up and I have no idea why. I'm not getting all of the feeds and over half of the blogs I follow are floating somewhere I cyberspace. Every blog that I know for a fact that I am following, on your website my little cute profile face is either a blank square, a mysterious blue profile, or I am not there at all. It's as if I don't exist!
I have been on all of the Blogger help forums and I am not alone. There is a very small percentage of bloggers affected by this and I just happen to be one of the lucky ones. The problem is, the Blogger administrators aren't doing a damn thing about it to assist us. In a nutshell, Blogger sucks for me right now and I'm not a happy camper.
Between spending countless hours this past week, trying to find out why I have this blank profile, why my reader isn't updating the feeds, why I am having trouble signing in to leave a damn comment, I am HIGHLY considering a move to WordPress. I hear life on that side of the blogosphere is pretty sweet.
So if you are following me and I am not following you, it's not because I don't like you, it's because Blogger won't allow me to sign in and follow you, because right now, Blogger sucks. If you comment on my blog and I haven't commented back, I am not ignoring you, it's because I can't leave a freakin comment on your blog, because right now, Blogger sucks.
If you are a fellow tweep of mine, you've heard my rant all over twitterville the last few days. So as you may have guessed, among my crazy Blogger frustration and confusion, I spent countless hours (used as my time out) to vent on Twitter and it was just what I needed!
Why do I love Twitter?
1. You can get an answer to any question within minutes from a fellow tweep.
2. Once you sign in, you're in. No drama about logging back in and out to do just that…tweet!
3. You're never alone. I don't care what time it is, if you're bored and want to converse, get up on there and you'll find somebody to chat with.
4. Instead of waiting for an email, a tweet is instantaneous.
5. It's real time. It's exciting. It's addictive. Need I say more?
If you haven't created a FREE account yet, you have no idea what you are missing. Now that I am hooked, I can't remember life before Twitter. So follow me on twitter…I can actually FOLLOW BACK on Twitter! Click here to follow me on Twitter.
So although Blogger sucks for me right now, I got to share my anguish and tweet with some of my peeps about it. To me, this was the kind of time out that I needed to keep my sanity!
And if you ARE a WordPress user, I would love to hear your experience. Please email me or leave it in the comments. I would totally appreciate any advice!
By the way, don't forget the 27 piece mini-makeup collection giveaway from e.l.f. ends tonight at 11 pm so get those last entries in!
And if you are participating in Theta Mom Thursday, how did you spend your one hour? Link up and share your time out with other Theta Moms!