It's Time Out for Theta Mom Thursday! For those of you visiting for the first time, the goal is to grab one hour of time within one week to do whatever you want…without the kids. It's such an amazing proposition, I know! On Thursdays, post how you spent your "time out" (add my button from the right side bar or link to me) and be sure to stop here to link up and meet other Theta Moms to see how they spent their time out!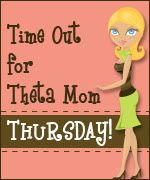 Well, I have to be honest.
I didn't have a time out this week.
I know, I am so lame. I spent a few hours in the evening blogging, blogging, blogging, but I really can't count that as "me" time. That would be totally cheating. So, I'm the big L-A-M-O who didn't get a time out. What makes matters worse is that I'm the girl hosting this party, so I guess that makes me a terrible hostess! Ugh, such pressure!!!
But, in my defense, this past week was super crazy for me. I was running around like a girl on speed planning and throwing the kids' birthday party, my baby girl has this ridiculous runny nose-cough-fever-ear infection thing that doesn't want to go away (which has been totally stressing me out)…take that in combination with running the show around here (on the home front), raising two kids (while working from home), as well as maintaining this little blog of mine, which on all accounts is quite labor intensive…but hey, who's complaining? I actually love the fact that I am so busy and that's a guarantee around here because there is never a dull moment. I've also been organizing some upcoming reviews/giveaways that totally rock, so be sure to come back this weekend when I roll out the first one…something every Theta Mom would want! So exciting!
In the midst of all of this, I was thinking the other day how funny it sounds to me, the idea that I actually have to "plan" my one hour time out. When my hubby needs to take a break, he just takes one. When I take mine, I have to punch a clock and have arrangements made for the children in advance.
In this sense, I certainly got the raw end of the deal.
Having said that, the bottom line is I have to work a little harder at carving out time for myself. Maybe I need to take a break from the computer…alright, that's not realistic, so maybe I just need to pencil myself in. As Oprah says, I need to "Put myself on the calendar." So next week ladies, I'm hopeful that I'll be posting about a slammin' time out that will totally make up for my lame appearance this week!
But enough about me, please do tell! How did you spend your one hour? If you are participating in Theta Mom Thursday, link up and share your time out with other Theta Moms, that's if you weren't lame like me this week!