It's Time Out for Theta Mom Thursday! For those of you visiting for the first time, the goal is to grab one hour of time within one week to do whatever you want…without the kids. It's such an amazing proposition, I know! On Thursdays, post how you spent your "time out" (add my button from the right side bar or link to me) and be sure to stop here to link up and meet other Theta Moms to see how they spent their time out!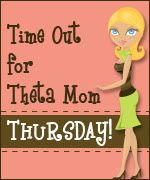 After my big brew ha ha of last week's totally lame time out, (including my recent post about how time is a thief), you better believe that I made every last effort to get some freakin "me" time!
Nothing earth shattering, nothing crazy, but still considered a successful hour of uninterrupted time for moi.
So what did I do?
I know, you are just dying to know after all of the fuss I made last week…
Well, I whipped out my latest edition of In Style since I haven't picked it up in months. It's a wonder why I even pay to subscribe to this magazine because I haven't been able to catch up on an issue yet…well, until now.
I also grabbed my favorite nail polish and decided to give my nails an upscale at-home manicure. If you didn't know, The Gap actually sells some really cute nail polish that seems to last forever. I chose a sparkling pink color since I thought it would give me that girlie lift I am in such desperate need of lately.
And what better way to complete my hour but to sip a glass of my father-in-law's best homemade Sicilian wine? It is so ridiculously good, he bottles it up for me and I enjoy it every single time I drink it. Every time.
So, there you have it. A good old magazine I totally adore, getting the opportunity to paint my neglected nails and sip some ever oh-so-good vino while I relaxed…uninterrupted…for an entire hour.
Peace at last Theta Moms! Now that's what I call some QT for me!!!
How did you spend your one hour? If you are participating in Theta Mom Thursday, link up and share your time out with other Theta Moms!