It's Time Out for Theta Mom Thursday! For those of you visiting for the first time, the goal is to grab one hour of time within one week to do whatever you want…without the kids. It's such an amazing proposition, I know! On Thursdays, post how you spent your "time out" (add my button from the right side bar or link to me) and be sure to stop here to link up and meet other Theta Moms to see how they spent their time out!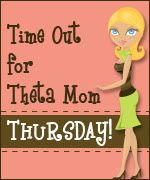 My husband and I are going to a wedding at the end of the month. I've been a little bummed out about the fact that I am still not in my pre-preggers clothing, especially since my daughter is now more than a year old! So frustrating! Despite my efforts (and sometimes lack thereof) I am forced to find something cute to wear even though I am still…ahem…between sizes.
The fact of the matter is I don't feel like spending a fortune on yet another dress I will probably wear only once and since I am determined to get back into those "skinny" clothes, the new dress would just hang in my closet for all eternity.
So, after a little digging, I pulled out a good old little black dress. I know all of you have that one, "always-feel-good-in-it-no-matter-what" little black dress.
It's classic.
Never goes out of style.
Makes me feel confident, attractive, sexy…regardless of my "in-between-size" right now.
Here is a picture of my LBD:
How did I spend my time out? Although I feel pretty good about the way I look in this little number, I thought I deserved to go shopping for some cute accessories to make it even more smashing.
So, that's exactly what I did Theta Moms! I went shopping for an adorable little wrap to add a little "something" to my LBD. Here's a small picture of the wrap. How cute will that look together?
And since I'll be sporting my sparkling new Lauren Nicole Fine Silver Wax Seal Bracelet (giveaway ends tonight at 11 pm so enter here), I managed to find an adorable set of earrings that will look fabulous with the rest of my ensemble!
It felt so good to get out and do some real "grown-up" shopping. After taking this hour, I have turned an old LBD into a stunning new look! And now I can't wait to show it off at the wedding!
How did you spend your one hour? If you are participating in Theta Mom Thursday, link up and share your time out with other Theta Moms!