LZ from My Messy Paradise posted the most fun set of questions on her blog, so I just had to play along!
1. Name someone with the same birthday as you. Paris Hilton
2. Where was your first kiss? On the back porch
3. Have you ever seriously vandalized someone else's property? No
4. Have you ever hit someone of the opposite sex? Yes, college boyfriend. Fun times.
5. Have you ever sung in front of a large number of people? Karaoke after a few beers, for sure!
6. What's the first thing you notice about your preferred sex? Great teeth
7. What really turns you off? Dishonesty
8. What do you order at Starbucks? White Chocolate Mocha
9. What is your biggest mistake? Not starting this blog sooner!
10. Have you ever hurt yourself on purpose? Does staying with a bad boyfriend for way too long count?
11. Say something totally random about yourself. I can eat Rainbow Sprinkles directly out of the container. No need for ice-cream or whipped cream.
12. Has anyone ever said you looked like a celebrity? When I was skinnier and blonder- Lara Spencer from The Insider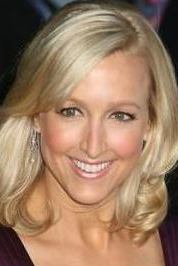 Lara                                                                          
                                                                                           Theta Mom
13. Do you still watch kiddie movies or TV shows? Kiddie movies, but not by choice.
14. Did you have braces? No
15. Are you comfortable with your height? I am tall at 5'8 and I was always so conscious of it growing up. Now, I don't mind it so much.
16. What is the most romantic thing someone of the preferred sex has done for you? My husband proposed to me on the ice-skating rink in Rockefeller Center.
17. When do you know its love? When you can't ever imagine yourself living without this person in your life.
18. Do you speak any other languages? I tried learning Italian since my husband speaks it, but I still can't string a full sentence together.
19. Have you ever been to a tanning salon? Fake and bake? Of course, I'm from New Jersey. 😉
20. What magazines do you read? I used to read InStyle, but now I don't even have time for that anymore.
21. Have you ever ridden in a limo? Yes, many times. The most fun limo rides I remember were for 3 different Bachelorette Parties in NYC.

22. Has anyone you were really close to passed away? Yes. All of my grandparents are deceased. I recently wrote about the anniversary of my Nana's passing.
23. Do you watch MTV? Of course! I never miss an episode of The Hills or The City.
24. What's something that really annoys you? When my husband thinks I spend way too much time blogging. And I know he'll eventually read this, and then our conversation following will be even more annoying.

25. What's something you really like? Listening to music

26. Do you like Michael Jackson? Yes, he lived an incredible life and although he had years of drama, the man was talented.
27. Can you dance? Actually, yes. I even minored in it in college.
28. What's the latest you have ever stayed up? 5 am. But, then I went to sleep…
29. Have you ever been rushed by an ambulance into the emergency room? Ambulance no but ER, yes.
30. Do you actually read these when other people fill them out? When the questions are this f-u-n, I do!
And as a side note, my feed has not been updating in many of your readers. I ask that if you are so kind, please resubscribe. Otherwise, you won't get my updates. I am also in the process of putting together my blogroll, so if you have me listed on your blog, please be sure to let me know in the comments! And in order for my updates to show on your blogroll, you would have to re-add me there, too. I know, what a mess…