"Here's the thing, girls… you are different after you have a baby, and we aren't just talking about the obvious. You likely won't even realize all the ways you've changed until you've gotten back into your old routine." How true is that?!
This was an excerpt taken from the new book Happy at Work, Happy at Home by Caitlin Friedman and Kimberly Yorio. About a month ago, I was watching LX New York Live and I caught a five minute segment on the balancing act of mothers. This segment was called Mommy Dish: The Balancing Act and one of the anchors on the show sat down with a few other women to discuss the age old question, how can we perform well both at work and at home and be happy doing it? The conversation featured author Caitlin Friedman of the book Happy at Work, Happy at Home. To catch that 5 minute segment, click HERE.
I have to admit, I was very intrigued by this conversation. I related to every word that was shared throughout this discussion.
As women in the 21st Century, can we work and be mothers and do both jobs well? And if you are a stay-at-home mom, you are a working mother with a juggling act to contend with, so this conversation includes you as well.
Motherhood has surprised me in so many ways. Since having kids, I never realized how challenging this job would be. I never realized how much my life would change. Moreover, I never realized how it would become such a juggling act, managing both work and home, which is why I connected to this book instantly.
Many of you know I was a full-time elementary school teacher for many years before I made the decision to stay at home with my kids. Although I work from home now, I still share the same daily battles of all working mothers. I struggle with the ability to juggle the day-to-day realities of raising kids, performing well in the workplace, keeping a solid marriage together while squeezing in some quality "me" time. This has been a concept women have been dealing with for generations and I couldn't wait to discuss it here with you.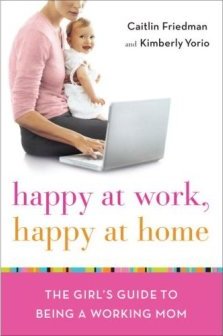 Happy at Work, Happy at Home is the kind of book you can read sections of interest at a time to gain perspective without feeling like you lost the message. And although the book focuses on the working mother, there is so much for the SAHM to gain from the book as well.
One section that caught my attention was Chapter 5: It's Never Quiet on the Home Front. The authors provide some helpful tips on how to provide a smooth morning routine, advice on the things you should be doing at home to make your life easier, right down to integrating a smooth evening routine. These suggestions are the things that all mothers can implement immediately and benefit from.
Chapter 8: Traps We Fall Into also resonated with me. "The sad fact is we just can't do it all well all the time. Sometimes, something has to give—work, motherhood, marriage—choose one. And that's what this Chapter is about—successfully navigating the negative traps to help us make better choices." (Friedman and Yorio, p 151) This is exactly what we need, a reality check! We all try to be superwomen, but it's not a realistic goal. These authors provide ways of losing the guilt and show you how to get down to the core of how we can successfully make good decisions that our entire family can live with.
The book not only provides practical advice, but it also includes interesting interviews with mothers just like you and I trying desperately to make it all work, or at least most of the time. The book begins with pregnancy and moves into the new role of motherhood. The authors then discuss the transition of finding the balance between work and home and they conclude the book with keeping your career alive. It certainly brings this whole process full circle.
So whether you are in the workforce now, a SAHM, a WAHM or a mother planning to return to the workplace, there is a little something for everyone in this book. You will relate to different portions of this book for different reasons. Regardless, I guarantee you will feel connected to a group of women that are experiencing the same kind of things you are or have experienced, trying to answer that question in our quest of finding some harmony through it all and as well as some happiness in the process.
"Motherhood is one of the most profound experiences you can have and it will change you in infinite ways. As with any major life upheaval, it will inspire you to take stock of what you want and what you value." (Friedman and Yorio, p 223) And that Theta Moms, is pretty powerful stuff.
Are you a SAHM, WAHM, or working mother? How do manage to find some harmony and stay happy in the process? What is your secret to success? I would love to hear your stories and experiences!