It's Time Out for Theta Mom Thursday! For those of you visiting for the first time, the goal is to grab one hour of time within one week to do whatever you want…without the kids. It's such an amazing proposition, I know! On Thursdays, post how you spent your "time out" (add my button from the right side bar or link to me) and be sure to stop here to link up and meet other Theta Moms to see how they spent their time out!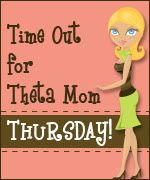 It's been one of those weeks. I spent some time down the Jersey Shore with my family. We lost our beloved Nana a year ago and we attended a beautiful ceremony at the church where we said good-bye. It's definitely been an emotionally charged week for me.
Having said that, I took some time away from Blogging as well. Although I've created new posts, I decided to shut the computer off for a night and just v-e-g out. So that's exactly what I did.
I grabbed a package of my favorite potato chips:
A glass of wine (of course):
And sat down on the couch to watch two of my favorite reality television shows:
and
That's right ladies, after this long and difficult week, eating some fattening chips, sipping some awesome red wine and watching my favorite
absolutely-no-thought-required
reality tv was a perfect time out for me this week!
If you are participating in Theta Mom Thursday, how did you spend your one hour? Link up and share your time out with other Theta Moms!
And don't forget the $180 Pearl Earring Giveaway from Pearl Paradise ends tonight, so get those last entries in!