It's Time Out for Theta Mom Thursday! For those of you visiting for the first time, the goal is to grab one hour of time within one week to do whatever you want…without the kids. It's such an amazing proposition, I know! On Thursdays, post how you spent your "time out" (add my button from the right side bar or link to me) and be sure to stop here to link up and meet other Theta Moms to see how they spent their time out!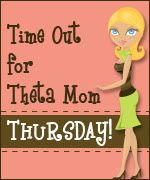 *** Quick Note: I will not hold our weekly Theta Mom Thursday next week, as my blog will be going through a major transition with the move to WordPress. I know I will be feverishly working on the website, probably more than I should be, so I don't want to commit to your awesome posts if my site isn't complete. And then the following week is Thanksgiving. So obviously, we'll all be eating turkey instead of blogging…so, we'll meet back and link up again December 3rd. You should all have MUCH to tell me by then! ***
Anyway, you know this move is all I've been talking about lately. And now that I have made the decision, I just want it to happen. Perfectly, smoothly, like this instant. But, we all know in the world of the blogosphere, these things take time. And a good thing is worth the wait, right?
Every spare moment, if I haven't been ranting about Blogger, I have been digesting every single thing I can about WordPress. Every. Single. Thing.

Seriously, I'm getting a little scared. I know it TOTALLY RAWKS and all, but I must admit, I'm shakin' in my boots a little. Alright, maybe a lot…
Am I an Ivy League Graduate? Yes. Am I a web savvy, tech-knowledge guru of html and CSS pages? Um…..not in the least.
Ladies, my hour (make that ENTIRE week) has been eating, sleeping, drinking WordPress.
I tried to get it in the shot, but can you see the 500 blue post-its I have on like every page? Uh, yeah, this is me. Total easy Blogger chick jumping ship to the land of the unknown without a clue about code. This should be very interesting.
I'm really trying super hard girls…but right now, all I can say is I am so glad I hired a designer!
If you are participating in Theta Mom Thursday, how did you spend your one hour? Link up and share your time out with other Theta Moms!
And don't forget the $64 Shabby Apple Dress Giveaway ends tonight.