I was standing in front of my closet the other day and found myself staring at all of my beautiful clothes carefully draped on hangers. I was looking at the sweaters folded so perfectly, even my shoes aligned by season. Everything has its proper place.
Because it has gone untouched for two years.
Because I can't wear them since my body doesn't fit into them.
Because being pregnant for nine months for the second time and then giving birth has put my body in the worst place it has ever been. Ever.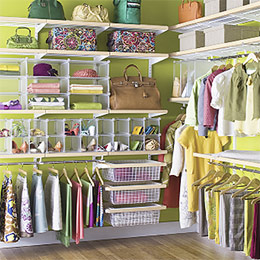 [image: containerstore.com]
Trying to get back into those pre-preggers clothes is still a challenge for me, fifteen months later. And I have no excuse. I can no longer say, "My daughter is four weeks old which is why I am wearing these pants."
There's nothing I can say other than, this really sucks.
After I had my son, I was back in my pre-preggers clothes within five months. Did I work at it? Yes. Did it come off pretty easily? Yes. Can I say the same as the result of giving birth to my daughter? Ummm, no. This girl seriously screwed me up.
But this longing to wear the clothes in my closet is more than just a "baby weight" issue. It's the fact that I work from home and there is no longer a need to get all dressed up…can I get an Amen from all of you stay-at-home moms, too?
When I was an elementary school teacher, I had to and wanted to look professional. I actually enjoyed putting my outfits together, pairing each one with perfect jewelry and accessories. My students always thought I was the "young, cool teacher" which was total incentive for me to sport the latest trends and keep up with my fabulous fashionista reputation.
Now, as I arrive at work after walking down the stairs to open my laptop, there is no real need to wear an adorable skirt with tights, boots and accessories because my daily outing is basically dropping my son off at pre-school (and if I'm lucky, a quick stop at the supermarket or Target with my daughter). That is just not a solid reason for me to put on my smashing dangle earrings and designer boots. Furthermore, not being able to fit into anything that resembles total cuteness makes this even harder to become a fashion plate like I once was…
Don't get me wrong, I feel so blessed to be able to work from home while raising my kids. I wouldn't trade that decision for anything and I know many women would love to be in my shoes. However, I am having some serious issues with my closet and what I find myself wearing these days. It's typically the same black shirt and pants ensemble, yoga pants or anything super comfortable. I lack the sheer motivation to really get "dressed."
So aside from some hard-core dieting to get back into those clothes hanging in my closet, I'm thinking a call into Stacey and Clinton may be in order. You think they'll take on a mommy blogger?