***This contest is now closed. Congratulations Alexis! An email has been sent.***
"You know Eenamaria. She walks faster because she knows where she's going. Impatient and enterprising. She's the one you envy as she glides past you on her motorcycle in gridlock traffic. She lives by different rules, rules that set her free. She's an urban nomad, a life-traveler who knows her way even in places she's never been before. Drop her in any city, any terrain, and the result will be the same. She'll find a path even natives don't know about. The one leading to the most sensational salsa club, the fastest ski slope, the hottest job, the most interesting people. Laughter follows her like light trails a comet. She's a rising star. Sexy. Secure. Life-lived in free-style. Eenamaria is you." ~Eenamaria
Alright ladies, you already know that I love a great bag. Eenamaria is the kind of designer that every woman envies. She creates the most unique designs that are not only chic but totally functional. When you sport an eenamaria bag, you will be noticed. She's the ultimate urban nomad who knows where she is going and she's taking you along for the ride. Eenamaria is no stranger to Hollywood either. Just ask Edie Falco, Evan-Rachel Woods, Isla Fisher, Janice Dickinson or Robert Verdi. They'll all tell you how much they adore Eenamaria!
I received the 'I Mean Bizniss' Travel Tote from Eenamaria. As soon as it arrived, I couldn't wait to begin carrying this gorgeous tote! Remember my trip to NYC with my son from this post? Well, I had my Eenamaria tote along with me that day! Not only was it big enough to fit all of my son's belongings (including snacks, sippy cups and allergy meds) it fit all of my necessities, especially when traveling with my son. In fact on any outing for that matter, this Theta Mom needs to be prepared so I need both fashion and function. The 'I Mean Bizniss' tote fulfills exactly that.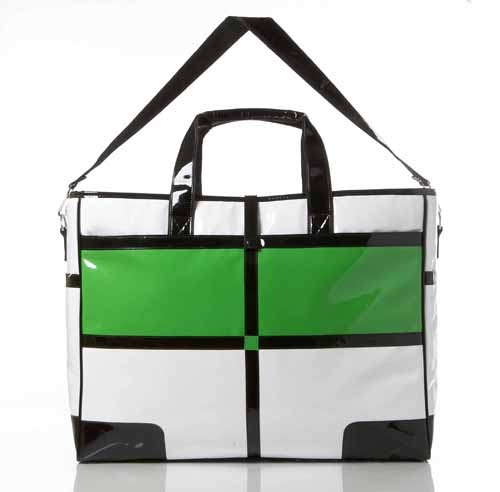 Made of Patent vinyl material, this travel tote includes 2 exterior zipper pockets, 2 exterior end pockets, a snap closure, interior zipper pocket, camera pocket, and business card pocket. It also features double handles and an additional strap. High quality style meets functionality.
This bag is so roomy inside, it truly is the perfect travel tote. I recently used this designer bag on the way to my parent's house when the kids slept over. It fit everything I needed easily and I traveled in style! This tote would also make a great carry-on when flying. You can find out more about eenamaria and her designs by checking out her website here.
You can purchase this eenamaria designer bag for $69.00 here OR you can enter to win because eenamaria is giving one lucky Theta Mom reader this 'I Mean Bizniss' designer Travel Tote to own!
 How to Enter The Eenamaria Designer Bag Giveaway:
 Required Entry: I made this super easy. Follow my blog publicly and tell me you are.
Extra Entries: (You must leave a separate entry for each extra entry to count and extra entries won't count unless the required entry is done)
1. Follow Theta Mom on Twitter here and leave me your twitter name. (1 entry)
2. Become a fan of Theta Mom on Facebook here and leave me your FB name. (1 entry)
3. Subscribe to Theta Mom via email. You must activate the subscription for this entry to count. (2 entries)
4. Subscribe to Theta Mom any other way. (1 entry)
5. Grab one of my cute buttons and add it to your website. (2 entries per button)
6. Click to vote for me at Top Mommy Blogs. Just click the banner on the right side bar and tell me you clicked. (1 entry)
7. Tweet this giveaway! Just copy/paste the following: Enter to win a designer handbag from eenamaria #giveaway @ThetaMom  http://tinyurl.com/ycn4du7 Please RT (1 entry per daily tweet)
8. Post about this giveaway on your blog and link back to me. Leave me your link to show the post. (2 entries)
9. Add Theta Mom to your blogroll. (2 entries)
Giveaway Rules:
This giveaway is open to US residents only. It begins on January 2, 2010 and will end on January 14, 2010 at 9 pm. One winner with a valid entry will be selected at random using random.org. The winner will be announced and must respond with a current email address within 48 hours to claim. Otherwise, another eligible entry will be chosen. Enter as many extra entries as you would like Theta Moms and good luck!
I was provided the 'I Mean Bizniss Travel Tote' by Eenamaria  to review. I was not compensated for this review. These are my own honest opinions and experience with the product.