This past Saturday, I attended a Mom Blogging event in NYC. Madison Square Garden Entertainment and Rose Communications partnered up to throw one smashing party to celebrate the 2009 opening season of the Radio City Christmas Spectacular, starring the world famous Radio City Rockettes. If you read The Rush, or Rockefeller Center: I Heart You, then you already know how much NYC (especially Rockefeller Center) means to me. Now for the first time, I was about to have an amazing opportunity to share this special place with my son.
The event included 1 ½ hours of cupcake decorating with the famed Magnolia Bakery, art and crafts with Kate's Paperie and a photo opportunity with Santa Claus himself! We were also given the chance to mingle with other mom bloggers as well as the Rockettes, and following this party was complimentary admission to catch the 7 pm performance of the show!
Well, I wouldn't be a Theta Mom if I didn't share this portion of the eventful evening…
Entering NYC we were all so excited, especially the kids. I took my son, his friend, and one of my friends (since my hubs stayed home to watch our baby girl who was too little to bring to this event).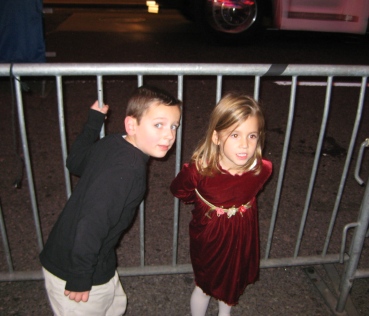 We were one of the first groups to arrive. How cute are these two together?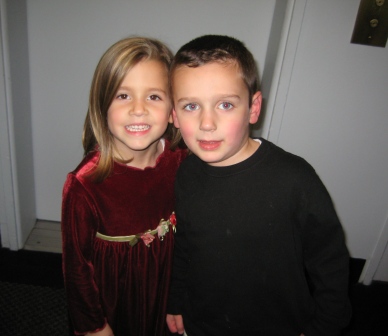 We were escorted into the large dance studio where the Rockettes actually rehearse. It was filled with tons of food and many tables full of supplies for the kids to begin making their crafts with Kate's Paperie. Once we grabbed a table, my son immediately began touching the rubber stamps and markers, since he told me he wanted to make a picture for Santa.
Meanwhile, the first mom blogger I ever met in person was the lovely Complicated Mama. She sat at our table along with her husband and adorable little boy. And would you believe she's a fellow Jersey girl? It was so fabulous to finally meet another blogger in person! We weren't even into the conversation for five minutes, when I looked over at my son.
He was itching his face…
I asked him to move his hands away from his face and that's when it started happening.
He began to break out into hives.
They started on his chin and began to arrive around his lips and his cheeks. Within minutes, he was quickly beginning to itch his face more intensely.
My heart skipped a beat. If you read this post, then you know that my son has a life-threatening allergy to nuts.
Only a few moments later, his itchy face turned into watering eyes and he was mouthing the words, "Mommy, my face really itches and I don't feel so good."
My mind was racing and I was totally scrambling trying to figure out the source that was triggering this reaction. What the hell? Why is this happening? Why now and what could he possibly be allergic to?
I scanned the room and saw wrapped candy on other tables like Snickers Bars packed in sealed jars. But, he never touched that candy and he never went near the cupcake decorating or any food for that matter, so I was baffled as to what was causing this reaction. He never ingested anything. The crazy thing was we were there only five minutes when this all began.
The more that time passed, the more I looked at my son's face, and the more I began to panic. I kept asking, "Can you breathe? Are you short of breath? You need to tell mommy how you are feeling…"
The hives were getting worse.
My heart was racing even faster now and I began to sweat. I was extremely light-headed and feeling short of breath, sensing that I was actually moving toward a panic attack. But I knew I had to pull myself together and stay strong for my son, regardless of where we would end up that night.
I had visions of myself lying my son down on that hardwood floor, administering the Epi-Pen, carrying his body down the stairs out to hail a cab, and dragging him to the nearest ER. I am in the middle of mid-town Manhattan without my husband, in a scenario that may include my son fighting for his life…it's hard for me to put this experience into words, describing the fear I felt. Ultimately, this allergy does have a life-altering outcome, especially the possibility of death if you don't act quickly.
I have been down this road before and each time (thankfully) we had a good outcome. However, looking into my son's eyes that night, not knowing the source of this allergic reaction, my gut was telling me otherwise.
I was frightened for him.
I was frightened for myself.
I didn't know how bad this thing was going to get, and that's the scariest part about this allergy. You just don't know.
At this point, I had no choice but to begin by giving my son Benadryl. After chugging the medicine and some water, I grabbed his hand and said, "We're going to the bathroom."
I remember thinking I was in a bad dream…that this wasn't really happening. Not to him, not to me, not now. Frantically, I was trying to keep my composure, but under the distress it was really hard to conceal my fear.
Continuing to walk nervously down a few hallways to finally find the ladies room, I placed his hands under the sink. Pumping the soap out, hands shaking and in the midst of my anxiety, I washed my son's entire hair, hands and face.
Wiping him dry and resting his face around my hands I asked, "You ok sweetie?"
He replied with a half smile, "Am I still gonna meet Santa Claus mommy? Cause, I think I feel a little better now."
I felt somewhat relieved. His eyes weren't tearing up quite as much, and although the hives were still there, his lips and face were not blowing up. This was an excellent sign. The worst, which I was praying to end, was hopefully over. The Bendryl was kicking in and obviously working its magic.
After walking around for a bit, we entered the room again and I did not allow him to touch anything. He sat on my lap and we waited for the others to finish up so we could leave the room to attend the next event, which was to meet Santa Claus and some of the Rockettes.
After about 20 minutes, his hives slowly started to disappear.
Why am I sharing this? For the sole fact that no matter how prepared I thought I was (lugging around a huge bag in the city full of snacks, sippy cups, meds, etc..) this kind of allergy will prove that no matter what precautions I take, we don't live in a bubble and this can potentially happen to my son anywhere at anytime.
So what was the cause of the allergic reaction? The only thing that makes sense to me right now, was the rubber on the back of those stamps. Once he touched that rubber and then touched his face, the hives appeared instantly.
When I got home, I googled it and found out that you don't have to have a specific latex allergy to actually be allergic to rubber, even natural rubber. Regardless, I now realize that this episode certainly warrants another trip to the allergist, since I need peace of mind to rule out the possibly of yet another allergy. And if he tests positive for it, we'll deal with it and at least we'll have the information to best equip ourselves and minimize the contact he'll have with that material.
So, aside from this dramatic event, we ended up having a really great time! Really, we did! Once the hives were finally gone, we were all able to relax and enjoy the rest of the evening.
We waited anxiously for the show to begin…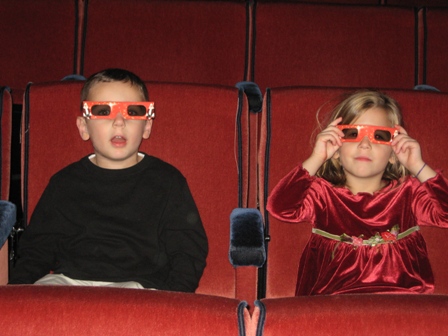 Had the chance to meet Santa himself…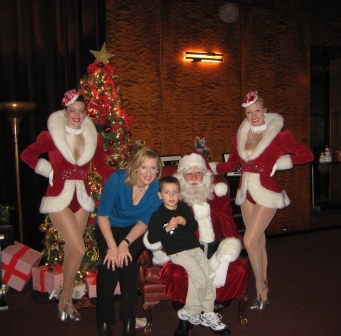 And relish in the moment, sharing this experience with a really good friend.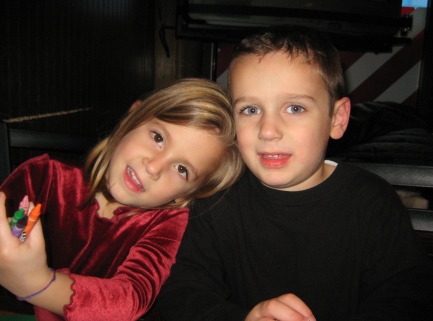 Thank you Radio City for another memorable experience…even though it probably took five years off of my life.