My husband and I were driving in the car together recently with the kids. We were listening to the radio and suddenly The Goo Goo Dolls song Slide came on. We both looked at each other and smiled.
Isn't it amazing how one song can bring you right back to a specific time and place? How your brain becomes instantly flooded with memories of a moment in your life? I recently was reading Carolyn's blog and she wrote a post about how music can really establish an emotional connection with us and that's exactly what I experience with certain songs. No matter how old the song may be, it will bring me right back to that time in my life as if it were just yesterday.
Slide by The Goo Goo Dolls was super popular when I first met my husband. It was one of those songs that we would often hear when we were out together. At the time, I was a full-time elementary school teacher commuting to NYC in the evening to earn my graduate degree. There were many weeks that would go by in which I would only see him for a few hours. My schedule and his schedule were so different and to make matters worse, we didn't live close to each other. We had to make the best of the limited time we could spend together.
So we would often meet in Northern NJ just right outside the city, usually in a bar or restaurant to grab a few drinks and some food before I headed home. Although this was another "crazy" time in my life, it was so much fun.
I looked forward to leaving class and driving out of the city to see him, even if it was just for a few hours. It didn't matter that it was a random weekday night and that I had to be up early to teach the next day. I was running on adrenaline and anticipation of seeing him and spending time with him. And I can't tell you how many times we would listen to The Goo Goo Dolls play in one of the bars.
When I hear that song now it brings me right back to when I was 23…all I have to hear is the beginning of that guitar riff and my mind is instantly filled with wonderful memories of when we first met.
And although my life used to be days filled with absolutely no responsibility of paying a mortgage and raising kids, I still wouldn't trade anything for my days now which are of a much different kind; filled with my daughter's "Goo Goo" voice and the actions of my very own two little Dolls.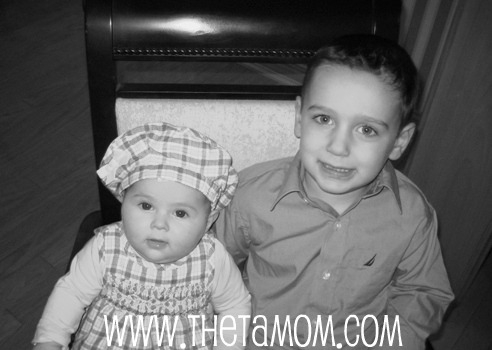 As crazy as life can sometimes be as a Theta Mom I love my life just where it is…and my Goo Goo Dolls just where they are.
And the songs that play on the radio today will one day bring a smile to my face. Because I will think of my children and remember them just as they are, right now.