It is an honor to introduce TMC Members to our very first Featured Blogger! Beth, a.k.a. The Confused Homemaker, actually began blogging around the same time I launched Theta Mom in the summer of 2009. She is a fantastic writer and I enjoy her posts which span from anything and everything about the craziness of motherhood to pop culture and the media. In her own words, here is a brief summary that best explains The Confused Homemaker: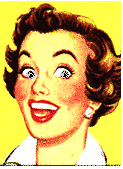 "Beth is a newly thir­ty-some­thing wife & a momma to 4 rabble-rousers. In the mix are 3 boys and 1 girl; known as: Mr. J, Mr. G, Mamacita, & D-man, all were born while she was in grad­u­ate school.  She & her husband always planned to travel, move some­where else, and explore the whole "big­ger, bet­ter" world out there. Instead, their first child came along dur­ing Beth's Master's pro­gram, right after she started prepar­ing appli­ca­tions for Ph.D. pro­grams out­side the great state of Michi­gan, & plans changed. Beth started her blog dur­ing the sum­mer of 2009. At the time she was in the final throes of grad­u­ate school, writ­ing what seemed like an end­less dis­ser­ta­tion on student-mothers. Since then she's fin­ished her PhD in soci­ol­ogy and grad­u­ated, but still have no idea what she wants to be when she grows up. Other things about Beth are that she:  loves hear­ing the pitter patter of feet, is los­ing the bat­tle against a wry sense of humor and believes water should never be added to whiskey.  Beth blogs about a love of food, life, home-making & design, work, pop cul­ture and the media."
So be sure to show Beth some TMC love by visiting her blog and you can also follow her on Twitter.