Preparing for a trip with children can be easily deemed as a monumental task. The packing and unpacking to the repacking and unpacking again can be such a chore. And the planning and organization needed for a mere plane ride with a 17 month-old can be especially time consuming.
After all of the vacation planning was in place and we finally reached our destination, I began to wonder why I made these plans in the first place. Have you ever felt like this before? Vacations are supposed to be a time of relaxation in a stress free environment, a time to forget about work and just play. It's a time to do what you wish because you are free from most responsibilities.
But when you are away with kids? It's really not a vacation. I like to call it a kidcation because that stress free environment does not really occur when you are traveling with children, or at least in my experience.
Maybe it was the fact that my baby girl would not cooperate on the plane. At 17 months, she wants to be mobile every second of the day so keeping her constrained on my lap was nothing short of difficult for me. I was battling with the constant screaming, crying, arms flying and legs kicking. It wasn't until thirty minutes into the flight that she finally settled down and eventually fell asleep in my arms but by that point, I think everyone on the plane hated me. Can you say kidcation?
Maybe it was the fact that my baby girl who is normally an amazing sleeper kept me up every night on the trip because she could not sleep one full night in that rental crib. Or perhaps it was the day we were driving in the rental car in search of a walk-in clinic, for she had a nasty sinus and ear infection and needed some good old antibiotics. The last thing I expected to do was spend my day in search for a local doctor and sit in a waiting room all afternoon full of sick individuals, many of whom had the stomach bug. Vacation? No, kidcation.
Actually, maybe it was standing in line for 45 minutes at Disney to get a mere 15 seconds with the famed Lightning McQueen…only to find out later that my kid was not even smiling for the photo.
Maybe it was the fact that at the Character Breakfast at Hollywood (which we reserved five months in advance) wasn't all that we thought it would be. When we arrived, only two of the six characters were there and we were told the others were "sleeping in." Once the others finally showed their faces, we already finished eating and were about to leave when my son eagerly ran up to June from the Little Einsteins to get her autograph…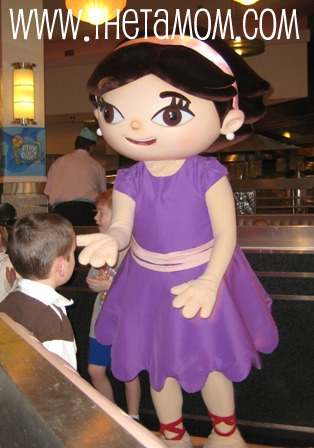 In the midst of his plight, I was stopped by one of the managers and she said to me in a nasty tone, "The characters will come around to the tables. Please tell your child and find your seat." Ummm, right lady – considering I just spent $89 on some frosted flakes and pancakes, I think my kid can ask for a friggin autograph. Kidcation?
Or maybe it was the fact that I am looking for relaxation and a stress free environment and when you have children this really isn't possible, not at this age anyway. It was the kind of thing like getting my daughter suited up for the pool, only to find out she would only stay in the water for ten minutes. Then, it was the drama of pulling off her wet bathing suit and changing her diaper in the hot sun. Or perhaps it was settling down to give her a snack, only to find out Miss Cranky Pants would rather run toward the edge of the pool, so I was always the mean Theta Mom keeping her strapped in her stroller. Kid-cation!
So although this may sound like one big complaint (which in part I will admit it absolutely is) I really did try to make the best of my kidcation…like actually getting a decent photo with my son at Disney…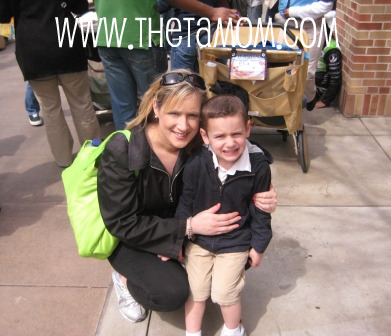 Or watching my kids enjoy the soft sand, sunlit sky and fresh air; a true escape from the monotony of the daily grind.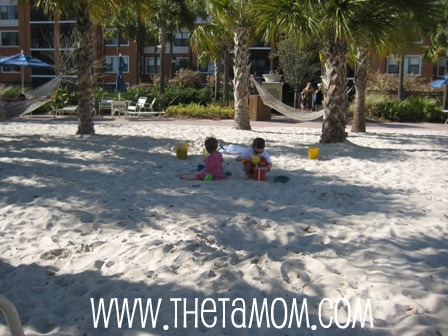 Yes, these are the moments I would like to remember from my kidcation.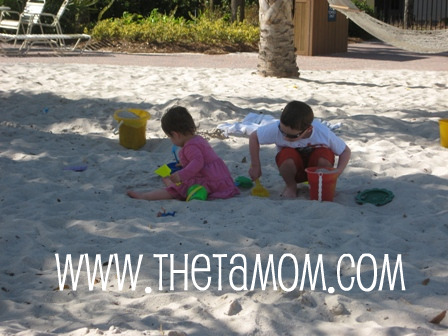 And ladies, don't forget this Thursday is Time Out for Theta Mom! Believe it or not, I did get a chance to get some alone time on this trip, so be sure to join me on Thursday and link up! If you are new to Theta Mom Thursday, check out the details here and I look forward to seeing what you've been up to!